Student Says 'Illegal Alien' On Facebook – Her School's Reaction Is CRIMINAL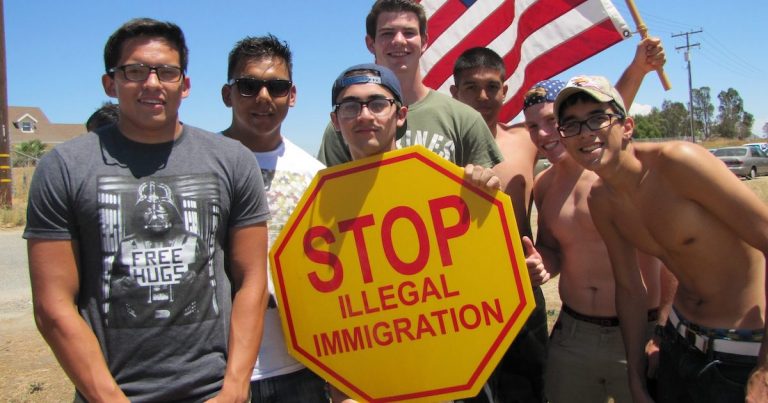 The Left screams about tolerance … but only if it furthers their progressive agenda.
A student in Kansas learned this lesson the hard way after expressing a "problematic" opinion on social media.
It's worrisome how widespread these stories are becoming, but liberals are making one thing clear:
They only want free speech for themselves, and not anyone else.
Our colleges are the greatest example of this problem. Universities are currently battlegrounds for conservatives, who have to fight every day for their right to speak.
But the Student Council Vice President at Emporia State University is refusing to give in to cultural totalitarianism, and is not apologizing for her beliefs.
From The Daily Wire:
"Michaela Todd, a senior at the university and Campus Reform correspondent, was called to resign by fellow students and the Diversity and Inclusion Committee.
Todd used the phrase 'illegal alien' in a supportive Facebook post about former Kansas gubernatorial candidate Kris Kobach prior to election day on November 6.
'Put Kansas first, not illegal aliens,' she wrote.
'The millions of dollars spent on public welfare for illegal aliens in Kansas hurts Kansas taxpayers every single day.'
Students took screenshots of Todd's post and shared it on social media labeling her post 'racist' and 'ignorant.'"
The Student Council voted to remove Todd simply for calling illegal aliens by their legal term, because telling the truth is somehow always racist.
It has come to our attention that the VP of @EmporiaStateASG has made incredibly hurtful, racist, and, frankly, ignorant remarks. The Multicultural Greek Council would like to say that she does not represent us and we hope that @emporiastate takes the measures needed to show us-

— MGC at ESU (@EmporiaMgc) November 7, 2018
Two-thirds of the council needed to approve the decision in order to get Todd to resign.
Fortunately the motion failed, with 11 votes in favor, seven against, and three abstentions.
Todd has defended her actions and insisted she did nothing wrong.
"It was the correct term to use for the context of my post," Todd said.
"While I do not regret my post or the language in it, I do understand that it upset certain people, and that was not my intentions behind it.
The purpose of my post and the language in it was to reiterate what Kobach stood for and how his leadership would benefit Kansas."
Todd went on to say that despite ESU's claims that it "strives to be a campus of diversity and inclusion", the diversity of political thought is nonexistent.
The Student Council backtracked its decision to vote Todd out in an email, stating, "We did not intend to make Vice President Todd feel isolated in her community."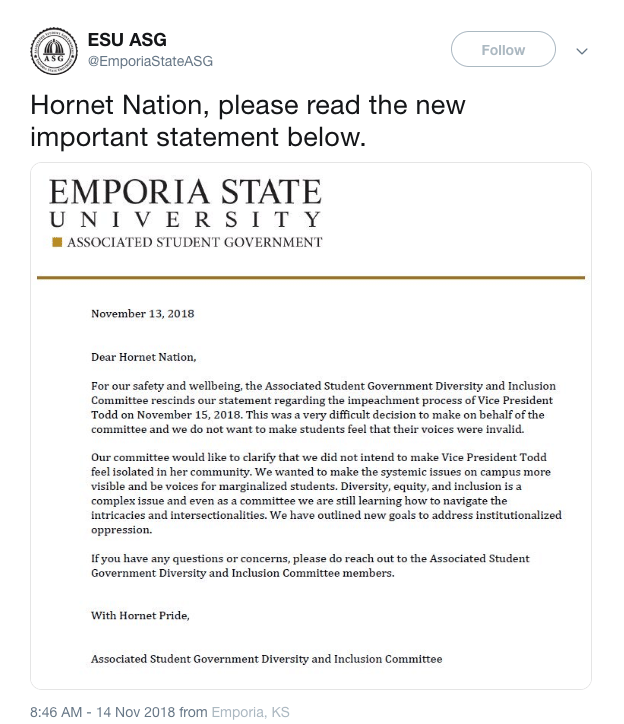 But that is exactly what they intended to do.
The Student Council wanted to shame Todd into resigning and issuing an apology/retraction, but they failed to bully her into silence.
Todd's story is a cautionary tale for all patriots:
If we do not stand up for our right to speak, it will be taken from us. Never back down, and never apologize!
Source: The Daily Wire