Supreme Court Delivers 7-2 Major Tax Ruling – Trump Responds To Mixed Decision Blocking Congress But Not NY Prosecutor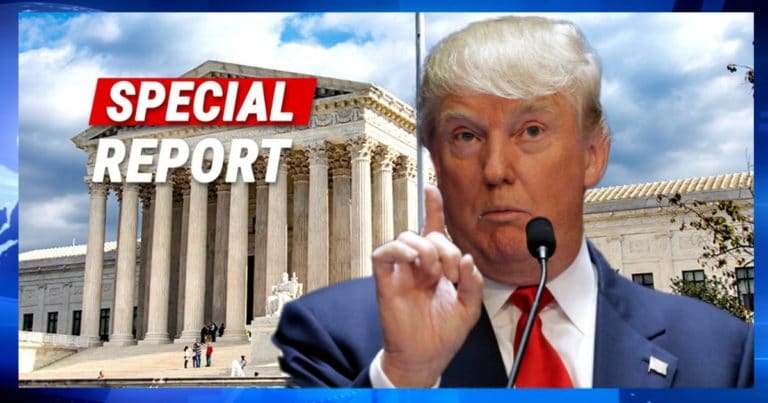 What's Happening:
Since before Trump entered office, Democrats have been demanding to see his tax returns. The former businessman has refused, claiming he cannot be prosecuted while he is President and the American people don't really care.
Since that time, the Democrats launched numerous efforts to get their hands on his records. One lawsuit out of New York went all the way to the Supreme Court, while House Democrats also demanded his files, which went to the Supreme Court as well.
Today, the court has given its verdict. Although not a total win for the president, it has hampered Democrats' efforts:
One ruling means that the subpoena issued to Trump's long-term accounting firm, Mazars LLP, for various financial records to be turned over to a grand jury as part of a criminal investigation can be enforced.

But the court sidestepped a major ruling on whether three House committees could also obtain Trump financial documents under subpoena, giving Trump at least a short-term win. Litigation will now continue in lower courts.
President Trump responded on Twitter, saying the court refused to grant "broad deference" to him, which they had to previous presidents, and then calling it "political prosecution":
Courts in the past have given "broad deference". BUT NOT ME!
The Supreme Court sends case back to Lower Court, arguments to continue. This is all a political prosecution. I won the Mueller Witch Hunt, and others, and now I have to keep fighting in a politically corrupt New York. Not fair to this Presidency or Administration!
The Supreme Court decided Trump was not immune from the left's dogged efforts to examine his tax returns.
As a private citizen, his tax returns are protected by privacy laws. But as president, it appears the court believes he is vulnerable to scrutiny.
Our Take:
Democrats insist, with no evidence, that Trump has cheated the system for years. They want his tax returns in order to prove their claims. Trump, in classic fashion, has refused to grant them the luxury.
But the court's ruling does not mean the left will have immediate access to his records. Instead, the battle will be fought in lower courts for the foreseeable future.
President Trump's lawyer, Jay Sekulow, commented on the ruling, promising to "raise additional Constitutional and legal issues" that should protect Trump from the Democrats' scheme:
We are pleased that in the decisions issued today, the Supreme Court has temporarily blocked both Congress and New York prosecutors from obtaining the President's financial records. We will now proceed to raise additional Constitutional and legal issues in the lower courts.
Further legal action will most likely prevent Democrats from getting their hands on Trump's tax returns. If not indefinitely, certainly not until the November election is over.
After that, they might suddenly lose interest altogether.
Key Takeaways:
The Supreme Court ruled on two cases aimed at acquiring Trump's tax returns.
The court sent the issue to the lower courts, but did rule Trump was vulnerable to scrutiny.
Trump's legal team promised to continue fighting to protect his financial records.
Source: Reuters, Twitter, Twitter
, Twitter