Supreme Court Gets Rocked by 19 States – They Fire Off Urgent Demand to Stop Biden's Cancelling Title 42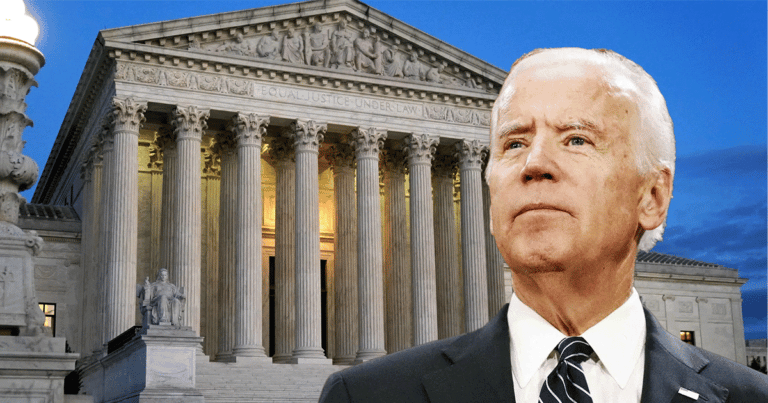 What's Happening:
The Supreme Court has been the last line of defense against Joe Biden's tyranny. The court has stopped this out-of-control administration from driving the country into the ground on many occasions. But Biden is still determined to shut down our prosperity, destroy our borders, and eliminate any rights citizens have.
Recently, the Biden administration moved to dismiss a case that it has been fighting for a while. It claimed the case was "moot"–meaning they do not want to submit to the court's decisions. The court appeared to side with Biden, by canceling oral arguments. So, nineteen states are firing back.
From The Epoch Times:
The 19 states fighting the Biden administration's plan to end the Title 42 policy that allows rapid expulsion of the illegal immigrants swamping the U.S.-Mexico border are asking the Supreme Court to press on with the case after it abruptly canceled oral arguments a few days ago…

On Feb. 16, the court pulled the hearing in Arizona v. Mayorkas, court file 22-592, scheduled for March 1, from the calendar without providing an explanation or an indication of how the justices voted on the matter.
Joe Biden wants the case over Title 42 to be dismissed, because he plans on ending the emergency COVID on May 11th. Biden claims that, with the emergency over, Title 42 is no longer needed. We pointed out in the past that Biden was trying to have his cake and eat it too, over COVID.
He kept extending the emergency, so he could spend billions. But he wanted to get rid of Title 42, to let in millions of illegal aliens. Biden claims he will end the emergency order in May. But the 19 states who sued him refuse to back down.
They are calling on the Supreme Court to rule on this issue, regardless. Biden has made it very clear that he is refusing to enforce immigration law. He is leaving the border open, allowing drug cartels, criminal aliens, and human traffickers into the country.
His DHS refuses to deport border jumpers. Instead, Biden has spent COVID money to bus illegals to communities across America. It's clear that, Title 42 or no, Biden has no intentions of protecting the border.
Shouldn't the Supreme Court deal with that? Biden is violating federal law to welcome aliens into the country. He is ignoring his own oath of office and the waves of criminals trampling our border. He will not listen to states or Congress. The third branch of the government must address it.
Key Takeaways:
Nineteen states are demanding the Supreme Court to rule on Title 42.
Biden wants the case dismissed, because he claims the emergency order will end on May 11th.
Biden has refused to enforce our border or uphold immigration law.
Source: The Epoch Times