Supreme Court Hands Obama Major Defeat – Denies Democrats Their Sped-Up Appeal For ObamaCare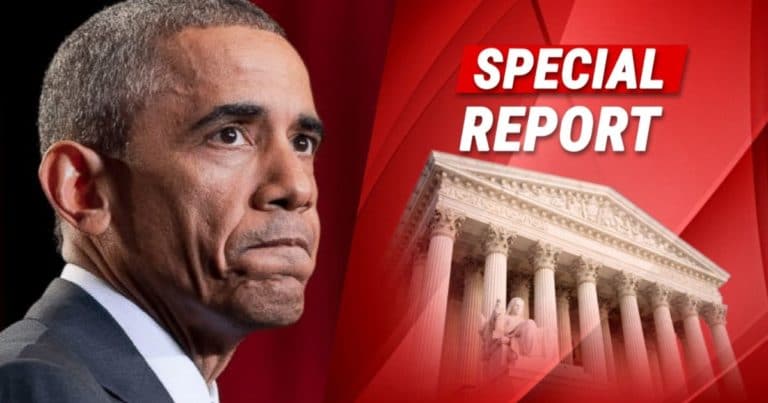 Democrats are facing a big problem. President Donald Trump is taking apart Obama's "hope and change" legacy, brick by brick.
After Barry's eight years of heavy regulation, increased taxes, and bad policy, Trump is restoring Americans' freedoms.
The results, as we've seen, have been tremendous. In just three years, the U.S. is back like never before. The economy is booming, the border is under control, and jobs are flooding the country.
But, guess what? The Democrats, lacking support from most Americans, are trying to use the courts to block Trump's agenda.
They seem to do this frequently because it doesn't require input from the rest of us. They hope that some left-wing judge will override the president.
In some cases, they fight all the way to the Supreme Court. But this time, the SCOTUS just handed the left a big loss.
From Fox News:
The Supreme Court on Tuesday denied a motion from a coalition of Democrat-led states asking the justices to speed up the review of a federal appeals court decision that put the future of the Affordable Care Act (ACA) in doubt.

That means the case – which pits a group of blue states led by California, as well as the House of Representatives, against Texas and 18 other GOP-led states' effort to strike down the ACA – is unlikely to be heard by the Supreme Court this term.
Uh-oh! Democrat-run states tried to force Obamacare through the courts by getting the Supreme Court to uphold the individual mandate.
But the Supreme Court denied a motion to speed up the trial. This is a big win for the president, because that means the original ruling by conservative states will stand for now—that Obamacare is unconstitutional.
By the time the court hears this case, it will be after the 2020 Election. I'm sure some Democrats were hoping this case would be wrapped up before November.
That could have been a challenge to President Trump if the court reversed the earlier decisions and protected Obamacare during an election year.
Now, it won't matter. With the case coming after 2020, its outcome won't help the Democrats in the Election.
And it gets us one step closer to dismantling Obamacare once and for all.
Many conservative states are moving to get rid of the program entirely. Hopefully, there will be an opportunity for the federal government to repeal and replace it.
(Of course, that won't happen unless Trump gets enough supporters in the House. So… be sure to vote.)
SHARE if you want Obamacare taken out for good!
Source: Fox News