Supreme Court Retirement Reports Swirl – 2 Republicans Could Quit Soon, Either Thomas Or Alito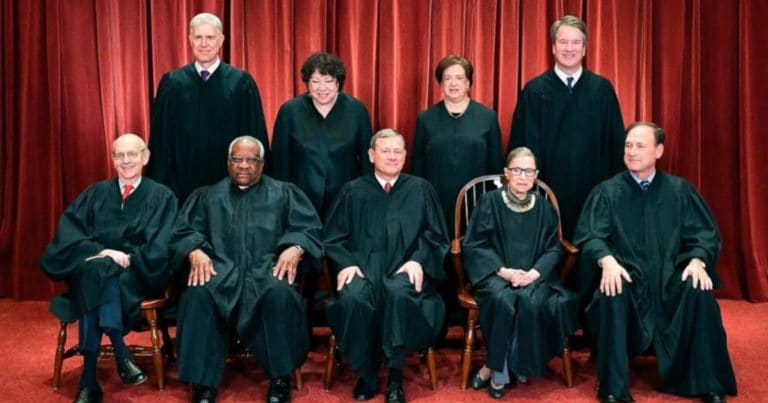 What's Happening:
Sen. Mitch McConnell has pushed that Trump should be able to appoint another Supreme Court justice, should a retirement emerge this year.
Many wonder if Ruth Bader Ginsberg would soon step down. If she does, that would give Donald Trump another chance to create a conservative majority.
But rumors are swirling that two Republican-appointed justices are eyeing retirement. Some D.C. insiders are making this claim:
The "stronger rumor" is that Alito is "going to quit," conservative radio host Hugh Hewitt told Washington Post reporter Robert Costa on his show Wednesday.

He mentioned this in response to Costa's report that said aides to President Trump believe Clarence Thomas, a conservative justice appointed by President George H.W. Bush, is the justice most likely to retire this year.
Our Take:
During the same interview, Hewitt made it clear that "Justice Thomas will never quit." This rumor might be so much hot air, given the frequency at which unverifiable rumors floating around Washington.
But Thomas and Alito are two stalwart Constitutionalists, with conservative track records. Their leadership on the Supreme Court has meant significant wins for conservative Americans over the years.
Their absence would leave a huge hole in the court's makeup. It would mean the president who appoints their replace could radically change the court.
Should Biden be in office at the time, it could mean the court becomes a far-left activist group in the blink of an eye.
While just a rumor, it is a reminder to voters just how important 2020 has become.
Key Takeaways:
Rumors have surfaced that two conservative justices might retire from the Supreme Court.
If Thomas or Alito retire, the president who replaces them could reshape the court.
Source: Washington Examiner