Supreme Court SLAMMED With Conservative Demand – Red State Begs Them To Halt Major Ruling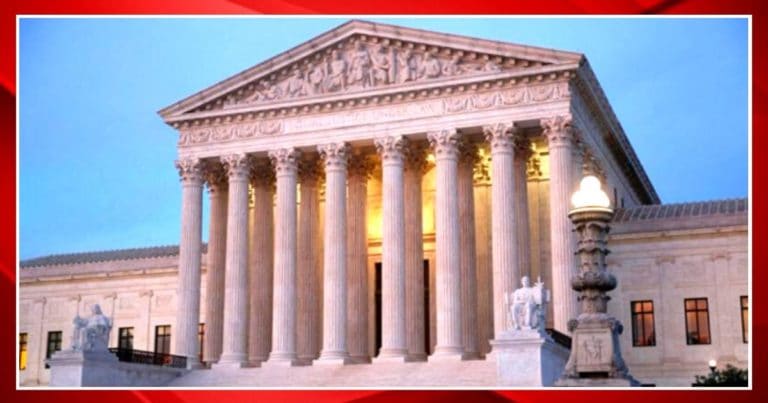 What's Happening:
It's no secret that Democrats often rush to the courts to undermine states' authority.
Whenever a conservative state passes a law, Democrats (sometimes outside of the state) sue to reverse it.
It's almost as if… these commies don't believe in the right of elected officials to pass their own laws?
This just happened recently in the red state of Tennessee. But their leaders are taking this all the way to the Supreme Court.
From Fox News:
Tennessee is asking the Supreme Court to put a hold on a lower-court ruling that the state's two-day waiting period for women seeking an abortion is unconstitutional, even though it's been in effect for years and other states have similar waiting periods…

The main thrust of the case is still at the Sixth Circuit Court of Appeals. But Tennessee is asking the Supreme Court to let it enforce its law as the litigation makes its way through the courts.
Even though this law has been in effect for 5 years (with no evidence that it is harmful), leftists are trying to get the courts to overturn a simple abortion law passed in Tennessee.
The law requires a woman to wait two days before getting an abortion. The goal is to give the woman more time to consider their decision.
It is a safeguard of sorts, to prevent women from making a drastic decision and regretting it later.
Anyone with a conscience shouldn't oppose such a law. Unless you're a Democrat.
Democrats are clearly in favor of abortion on demand. They want women to be able to get an abortion at any time, for any reason, under any circumstances.
The consequences of such a situation are never considered by the left, who appear to look at abortion as some kind of booming industry.
It's ironic that Democrats are trying to overturn this rule. After all, they were the ones that implementing a waiting period for gun buyers. They seem to think that Americans should wait before getting a gun, to save lives.
But they don't want women to wait two days, before aborting a baby? Something's definitely off.
Justice Kavanaugh ordered the pro-choice groups to respond to the request. There is a good chance the court will side with Tennessee as the case moves through lower courts.
Key Takeaways:
Tennessee is appealing to the Supreme Court over a pro-life law.
Pro-choice groups want to overturn a law that sets a two-day waiting period for abortions.
The state wants a lower court decision lifted as the case progresses.
Source: Fox News