Susan Collins Finds Glaring Hole In Biden's Relief Bill – She Claims Democrats Don't Have Dime In It For Nursing Homes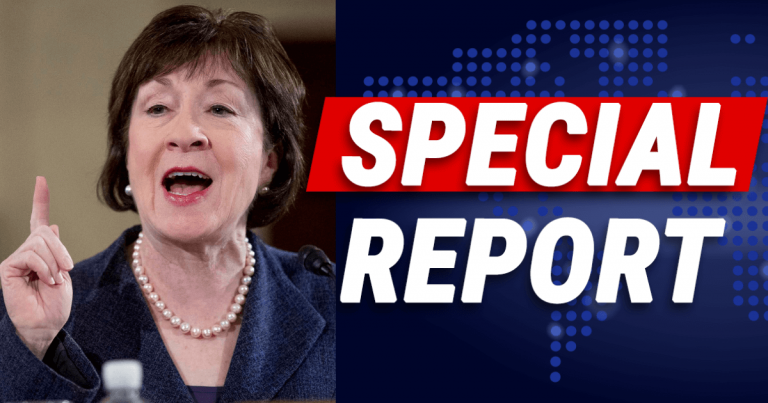 What's Happening:
After stonewalling Republicans all last year, Democrats now want to rush through a $1.9 trillion COVID bill.
But you've probably heard about all the poison pills being dropped into this "relief" package. Very little of it appears to even go toward COVID relief.
Biden is making sure all his left-wing goals are being met. Americans out of work and suffering? They seem to be at the back of the line.
And now an unlikely lawmaker is trying to slam the brakes on Biden's bill.
From YouTube:
Senator Collins confronted Biden's HHS Secretary nominee Xavier Becerra saying that she is "astonished" that Biden has a $1.9T bill, but no money for nursing homes, during his confirmation hearing on 2/23/2021.
Senator Susan Collins is often considered a moderate Republican who often sides with the left. But she was not willing to sit back and let Biden's radical COVID bill go through without a fight.
She slammed Biden's plan, which provides billions for unrelated causes, but apparently no money for nursing homes.
This has to be complete lunacy on the part of the left. Nursing homes were ground zero in the battle against COVID.
We know the disease hurt seniors worse than any other group. States had to work overtime to protect nursing homes, to prevent the spread of the disease (except in New York).
If Biden really cared about helping Americans and saving lives, why didn't he considering offering funding to help ailing nursing homes?
Nursing homes are often woefully underfunded and struggling. COVID only made that worse.
Federal funding could provide PPE, medication, sanitization improvements, and other resources to protect residents and staff.
But for Biden not to even provide a penny for nursing homes? How can that not be considered criminal?
Susan Collins slammed the left for putting so many other funding goals in this massive bill, but not this one.
Her strong response signals she is not willing to support this bill–which increases the chances of it not passing.
If Democrats are really serious about this bill, maybe they should bother consulting support from Republicans?
Key Takeaways:
Senator Susan Collins slammed Biden's COVID relief bill.
She called out the legislation for providing no support for nursing homes.
Nursing homes faced a greater danger in the battle against COVID.
Source: YouTube