McEnany Calls Out Obama Adviser Susan Rice – Accuses Her Of Lying About Trump and Flynn Surveillance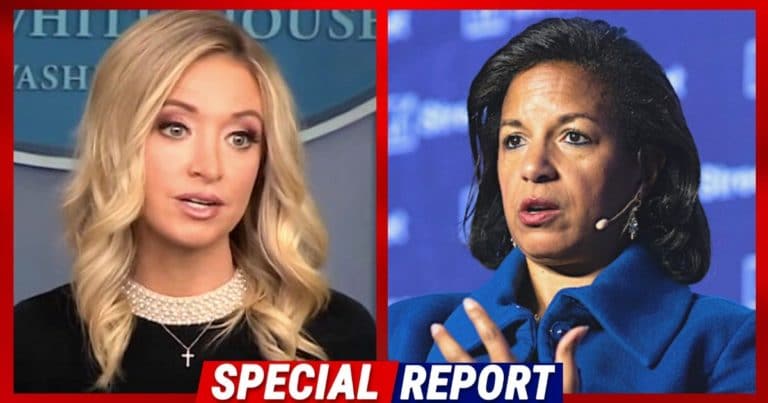 New evidence in a major controversy just broke—the possible surveillance scandal involving President Donald Trump and former national security adviser Michael Flynn.
And White House Press Secretary Kayleigh McEnany just threw more fuel on the fire.
She just made a very big accusation.
She has accused former Obama official Susan Rice of "lying" during a 2017 interview, when she said she knew "nothing" about the issue.
As she told reporters on Wednesday (via Fox News):
She was asked specifically about [Devin] Nunes' claims.

She said 'I know nothing about this,' so that was a lie.
McEnany is referring to a PBS News Hour interview with Rice in 2017. Rice was asked if she knew about any surveillance on Trump's transition team before he took office.
At the time, House Intelligence Committee chairman Devin Nunes said that he and his colleagues might've been "caught up in surveillance of foreign individuals and their identities may have been disclosed."
And how did Rice respond? As McEnany cited: "I know nothing about this."
But a recently released email from Rice proves she may have known after all.
This message was written on January 20, 2017, and mentioned an Oval Office meeting with President Obama and others.
That email included a response by then-FBI Director James Comey. And he suggested that the National Security Counsel not pass "sensitive information related to Russia" to Flynn.
Furthermore, there was surveillance associated with the "unmasking" of Flynn, which the email supposedly hints at.
Rice seems to be awfully knowledgeable about events at that time, didn't she?
She claims that any surveillance of Trump and his team would've been "legal and lawful," but she ALSO claims she knows nothing about it…?
Something smells a little fishy here, I say.
SHARE if you want Susan Rice investigated!
Source: Fox News