Democrat Swalwell's Closet Swings Wide Open – Report Claims His Campaign Paid Almost $60K for Miami, Paris Hotels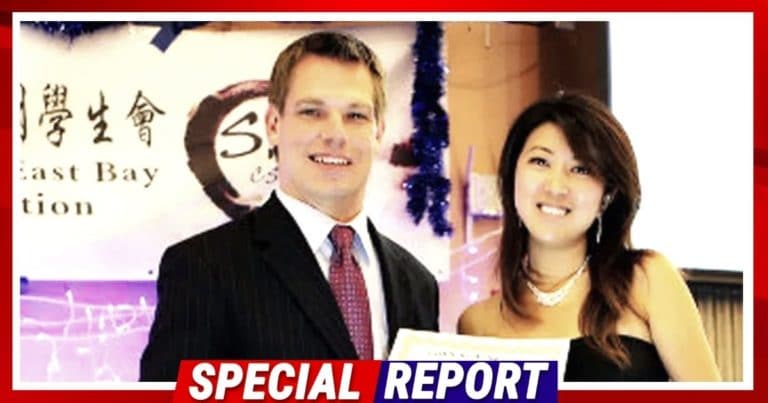 What's Happening:
It's been a while since we heard about Democrat Rep. Eric Swalwell. Back in 2020, he was outed for sleeping with a literal Chinese spy.
Despite that shocking violation of ethics, Pelosi did not remove this bum from his committee posts (including the House Intelligence Committee).
He kept his head down, it seems, for years. But now, old Eric is in hot water again.
From Fox News:
California Democrat Rep. Eric Swalwell's campaign dropped nearly $60,000 on travel expenses in just six weeks, including at a Miami Beach hot spot and hotel in Paris, France, campaign finance records show.

The Swalwell campaign's choice of posh hotels carry nightly price tags between $400 and $3,700, and the committee also dished out significant amounts on airfare…

Swalwell's campaign, which consists of two paid staffers, dropped thousands at luxury hotels in prime vacation spots, including $4,708 at Loews Miami Beach, where rooms cost customers between $400 for city room views and $3,700 for the presidential suite, its website shows.
Woah, I guess it pays to be a corrupt Democrat! Eric Swalwell's campaign, which at the moment is just two people, spent almost $60,000 on travel in just six weeks.
They blew through cash at luxury hotels, resorts, and airline tickets.
Mind you, campaign cash is meant to cover expenses related to the campaign. What were these staffers doing in Miami and Paris?
Considering, of course, the man is a California representative?
Campaign finance laws are very strict. Americans dish out this money to candidates, assuming they will use it to win elections.
But can Swalwell prove these expenses were justifiable? I doubt it.
But will he face any kind of repercussions from this? That, we also doubt.
Numerous Democrats have been called out recently for spending campaign cash on questionable things. Some seem to funnel millions to their families for "services."
Swalwell isn't the first Democrat to use campaign funds to live the high life.
And he certainly won't be the last.
Key Takeaways:
Democrat Eric Swalwell's campaign spent $60,000 on travel in six weeks.
The cash was used for luxury hotels in Miami and Paris.
Swalwell was previously in hot water for his relationship with a Chinese spy.
Source: Fox News