Target Lands in Legal Hot Water – 7 Republican AGs Say 1 Law May Have Been Violated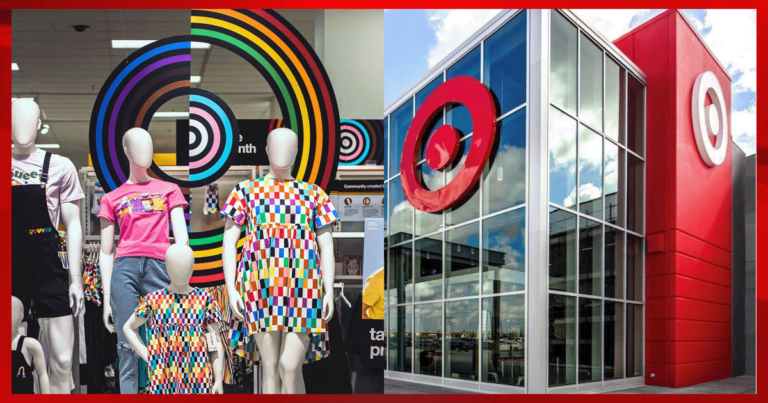 What's Happening:
Companies that want to woo customers with political activism really need to start rethinking their marketing strategies. The business fad of targeting a cultural minority while alienating the majority of customers isn't good for the bottom line.
When companies appeal to the Pride brigade, they should remember that shareholders have a stronger voice that can affect business operations. And these companies need to make sure the latest cultural fad doesn't cross legal lines when it comes to marketing to children.
Big box retailer Target is feeling the heat after its Pride collection turned away customers, tanked sales, and caused legal authorities to question possible criminal activity.
From Fox Business:
Seven Republican attorneys general warned Target on Thursday that the company's controversial Pride collection contained vulgar clothing that may violate child-protection laws.

The group, led by Republican Indiana Attorney General Todd Rokita, argued the June Pride collection at Target was "potentially harmful to minors" and threatened the economic interests of the corporation's shareholders due to resulting boycotts. They also warned that the campaign raises "concerns" about compliance with state child protection and parental rights laws.
Ouch! Forget the marketing screwup, Target officials better make sure their law firm retainer covers bail bonds. This type of legal inquiry can hit the business pocketbook and possibly hold Target leadership responsible for crimes against children and parents. How many rainbow-colored bathing suits will Target have to sell to cover all these costs?
Target tried to correct the problem by shuffling store displays and products deemed "inappropriate" by critics, but it wasn't enough to remove the "vulgar" images seen by these AGs. They keyed on items such as a girls' swimsuit designed to "tuck" male genitalia for the transgender crowd and the Pride collection included items targeted at babies such as bibs and onesies.
All of this could have been avoided if Target didn't bow to the temptation of jumping on the rainbow bandwagon and showing the world how "Pride-ful" they are. This was nothing more than a marketing ploy to boost profits and it failed. Now Target is losing sales revenue and facing possible criminal issues.
This group of AGs was on-target with what they were watching. If this plays out, Target is looking at some deep-pocket legal costs that won't please shareholders. Target stock has fallen nearly 20% after backlash for its Pride collection hit sales. Overall valuation for the company dropped by more than $13 billion.
From Fox Business:
"Our concerns entail the company's promotion and sale of potentially harmful products to minors, related potential interference with parental authority in matters of sex and gender identity, and possible violation of fiduciary duties by the company's directors and officers," the AG's wrote.
Not much to be proud of for Target supporters with this kind of marketing failure. Maybe shareholders should call for new management that won't be blinded by the rainbows.
Key Takeaways:
Big box retailer faces investigation from state attorneys general.
Target jumped on the Pride bandwagon and may pay dearly.
If success is measured in profits, Target's Pride move is a big loss.
Source: Fox Business