Teacher Tells Student She Can't Do Her 'Hero' Report On Trump – Then Donald Makes Her Day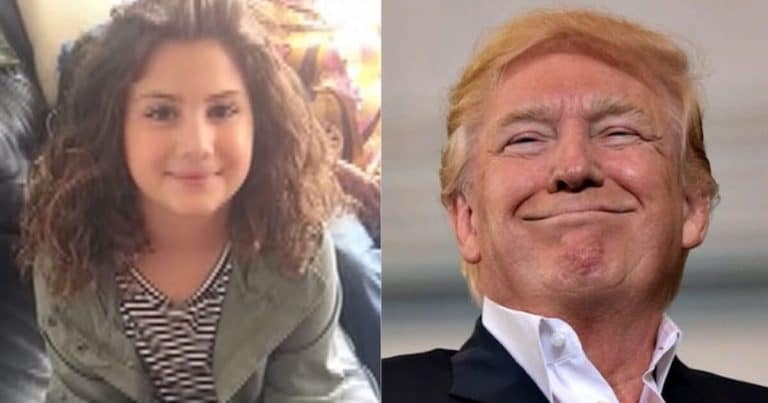 I loved Trump's response … just PERFECT!
It's no secret that many Americans admire and look up to the president.
And that includes children who respect and appreciate everything Trump has achieved.
For instance, when a young girl wanted to do a report about her hero, she picked President Trump.
But her liberal teacher – believing the lies of the left, and NOT believing in free speech – refused to let her do so.
Can you believe that? A teacher telling a child who she can and can't have as a hero?!
Well, the joke's on that oppressive teacher, because Trump found out about this story … and his reaction is just amazing.
From the Right Scoop:
"An 11-year-old's story has been making the rounds on conservative media after she was told by her teacher…

…that she couldn't do a 'hero' report on President Trump because of what he said about women.

She got a pretty cool surprise from the president in the mail…"
My daughter Bella got the biggest surprise today in the mail!An envelope addressed to her from the White House!!!! She was so excited! Received a bunch of cool stuff and a letter from him!THANK YOU! @realDonaldTrump @DonaldJTrumpJr @raficarone_21 pic.twitter.com/Y7DDXoOjwF

— Valerie Moscato ✝️ (@valeracci) April 19, 2019
Donald himself sent her a package full of official White House material, including a letter addressed to her, signed personally!
It's shocking to think that a teacher would deny a student's chance to report on the president, though.
According to the girl's story, the teacher accused Trump of "spreading negativity" and saying "bad stuff" about women.
Really? Who is actually spreading negativity these days? President Trump or the fake news media?
The media has built an empire spreading bad news, negativity, slander, and outright lies.
President Trump, on the other hand, has done nothing but rebuild our broken economy, put Americans first, and fight back terrorism.
And those are just a few of the reasons this girl respects the President of the United States.
The school, of course, is denying any of this happened; they refuse to confront the issue or reprimand the teacher.
God forbid you get your hands dirty doing the right thing, eh, principal?
At least the president is doing the right thing, though: he's acknowledging this brave girl's commitment and appreciation for his administration.
Maybe that teacher could learn a thing or two from him…
SHARE if you support this girl's dream of reporting on her hero!
Source: The Right Scoop