Ted Cruz Takes On Twitter CEO To His Face – Ted Orders Jack Dorsey To Tell Him 'Who The Hell Elected You'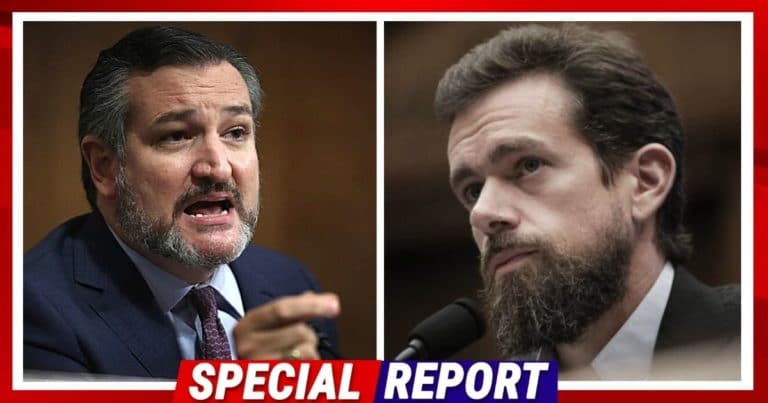 What's Happening:
Not long ago, major social network sites, including Twitter, tried to censor a bombshell story by the New York Post.
That seemed to spark outrage from the Senate, who ordered CEO Jack Dorsey to appear before them.
The Senate Commerce Committee demanded tough answers from this allegedly left-wing company owner.
Republican lawmakers think it might be time to revoke social networks' Section 230 immunity if they continue to control what their users see.
And Lion Ted Cruz wasted no time hitting Twitter's boss hard. It's all powerful, but if you're short for time, jump to 8:00 for Cruz's big line:
Watch: @tedcruz holds @jack's feet to the fire over Twitter censorship. Ted Cruz owned this.
pic.twitter.com/j8ehoH0JJz

— TV News HQ (@TVNewsHQ) October 28, 2020
Republican Texas Sen. Ted Cruz criticized Twitter CEO Jack Dorsey on Wednesday for censoring stories from the New York Post about Democratic presidential candidate Joe Biden and his son Hunter Biden…

"Two weeks ago, Twitter made the unilateral decision to censor the New York Post in a series of two blockbuster articles… Mr. Dorsey, who the hell elected you? And put you in charge of what the media are allowed to report, and what the American people are allowed to hear… and why do you persist in behaving as a Democratic super PAC?," Cruz asked Dorsey.
Cruz slammed Twitter's CEO over how the site outright blocked and censored links to the Post's story about Hunter Biden.
He accused Dorsey of acting like  "Democratic super PAC," asking him point-blank: "Who the hell elected you?"
Cruz has cause to express such outrage. The day the Post broke the story about Hunter Biden's alleged laptop, Twitter engaged in what can only be called extreme measures to limit its reach.
They shut down the Post's Twitter account. They prevented users from adding links to the article in their own tweets.
And those that did manage to tweet the link, clicking on it would bring up a warning from Twitter that the Post's website was a known spam site that would infect their computers.
This is beyond "protecting" users from false information. It appears Twitter was actively trying to scare people away from reading about the Hunter laptop.
How can anyone view that but as an attempt by Twitter to sway the election? After all, reading that these damaging emails might be real could influence someone's vote. Preventing them from seeing them, well that looks like Twitter is trying to protect Joe Biden.
For years, Democrats have attacked Trump and claimed Russians tried to interfere with the 2016 Election. Yet they appear to turn a blind eye when Silicon Valley companies actively try to censor information that could impact our democracy.
Do you think Twitter should face penalties for their attempts to censor the truth?
Key Takeaways:
Ted Cruz ripped into Twitter's CEO, accusing him of being a "Democratic super PAC."
Twitter and other social sites face intense backlash after censoring a Post article.
Senate Republicans are considering, once again, revoking social networks' Section 230 immunity.
Source: Daily Caller