Ten Democrats Follow Kim Jong Un's Haircut Rules – Bernie Sanders Follows The Strict Requirements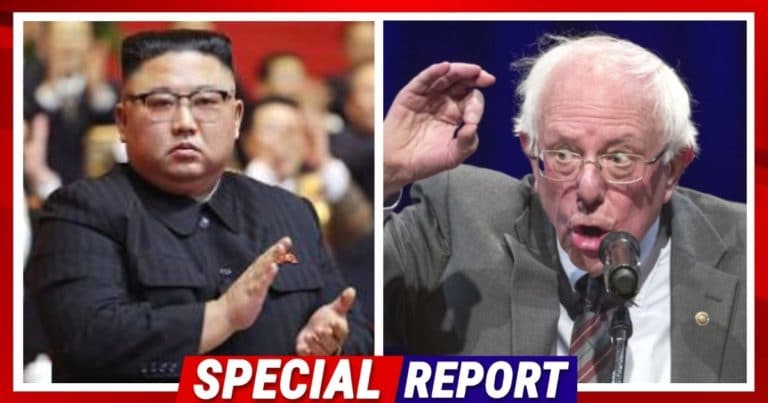 What's Happening:
What does the odd, off-putting, and possibly evil ruler of North Korea have in common with Democrats?
A lot more than we thought, apparently.
It's an open secret that "Democratic socialists" in America want to impose radical, left-wing plans onto the country.
Sure, they say they're not communists, but they seem to be following lockstep with the world's worst dictators.
Recently, Kim Jong Un passed strict fashion rules for his country. And apparently, some of our own socialists have already been following his guidelines.
From Daily Caller:
North Korean leader Kim Jong Un has implemented strict fashion rules to crack down on "exotic" capitalist lifestyles and "decadent" Western attire. Fortunately, there are a number of politicians and celebrities who already fit the communist state's strict requirements.
The oddball ruler has outlawed fashion and haircuts that he deemed "Western" or "exotic" capitalism.
He doesn't want people wearing skinny jeans (already outdated in the West, Un) as well as piercings, pop music, mullets, and spiked hair.
Apparently, socialists in America have been following Un's bland guidelines for years.
Bernie Sanders, although loved by American anarchists and radicals, is a fashion conformist when it comes to his uninspired hair. Men over 50 can have long hair in NK. Bernie would fit in just fine.
Alexandria Ocasio-Cortez, or AOC, has a bland fashion sense that would make old Kim Jong Un proud.
Outspoken socialist Senator Liz Warren's hair is short and unimpressive. The same kind of bob that North Korean women are forced to adopt. While the woman wants to take risks with Americans' pocketbooks, she takes no chances with her style.
What about obvious socialist Sleepy Joe? Biden, as a man at 78 years young could risk a slightly longer haircut. Kim Jong Un would be proud to see Biden not making any waves.
Another socialist in our ranks is failed presidential candidate Amy Klobuchar. Her medium-length, bland hairstyle fits perfectly in North Korea's latest fashion standards.
Then there's Rachel Maddow's famously man-like short hair. Never fear, gender-bender. North Korea celebrates women who like boring, boyish hairstyles.
From all appearances, America's left's bland, uninspired, predictable fashion would meet Kim Jong Un's rigorous standards. I think it's safe to say, none of them will be winning any fashion shows soon.
Source: Daily Caller