Texas Deals California Another Major Loss – Companies Are Rerouting Their Supply Chain Shipments To Port Houston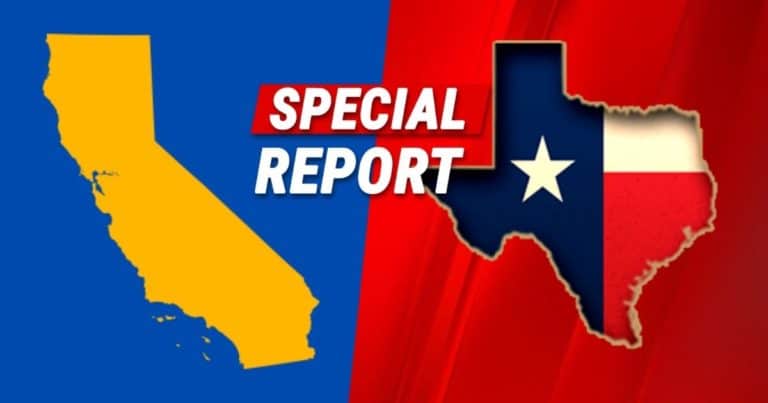 What's Happening:
It's no secret that a massive supply chain crisis hit the U.S. under Joe Biden. We've all seen photos of hundreds of ships stuck off the coast of California. They cannot offload their goods, as companies lose millions by the day. This is largely thanks to Joe Biden, whose "stimulus" bill paid people not to work.
But there is a silver lining in this crisis. As socialist California struggles to get things back to work, other states are stepping up to fill the gap. Florida called on shippers to use their open ports. And in the Lone Star State, ports are seeing an explosion of business.
From KHOU 11:
There's a container surge at Port Houston, which is in its seventh consecutive month of double-digit growth…

Port Houston handles 3.5 million containers a year and you'll see anywhere from 6,000 to 7,000 trucks coming and going with loads daily. The surge is bumping up all those numbers…

Stores like Walmart, Lowe's, Ross, IKEA and RoomsToGo have all rerouted container cargo to Houston since the beginning of the pandemic.
This is a major blow to California and other blue states with major ports. One dock executive in Texas said he hasn't seen it this busy in over 34 years. Ships from all over the world, working for major retailers, have chosen Texas instead of California.
That's because these ports have been working around the clock, even during lockdowns. And it will require fewer truck drivers to get their goods to stores in that part of the country, instead of offloading in California and driving it to the other coast.
There is a reported shortage of truck drivers, thanks to Biden's policies. People have been paid to stay home. In other cases, slowdowns, inflation, and rising fuel costs have put people out of work. The end result is a strain on our supply chain, making it harder for stores to stock their shelves. But some folks have refused to let these problems slow them down.
States like Texas are uniquely prepared for just this sort of situation. Not only has Texas been back to work for nearly a year, but lower costs make docking at Houston ports much more attractive. This surge in business is proof that pro-American policies work.
The people at the Houston port don't expect this surge to go away anytime soon. Meanwhile, Biden is scrambling to find a way to get goods offloaded at CA ports. Will he come crawling and ask Texas for help?
Key Takeaways:
Houston ports are seeing business surge during the supply chain crisis.
Ports in CA struggle to offload goods, and companies are rerouting ships.
This comes as Biden's policies have triggered economic crises.
Source: KHOU 11