After Texas Church Burns To The Ground – The Smoke Cleared, But The Thing Left Standing Was The Cross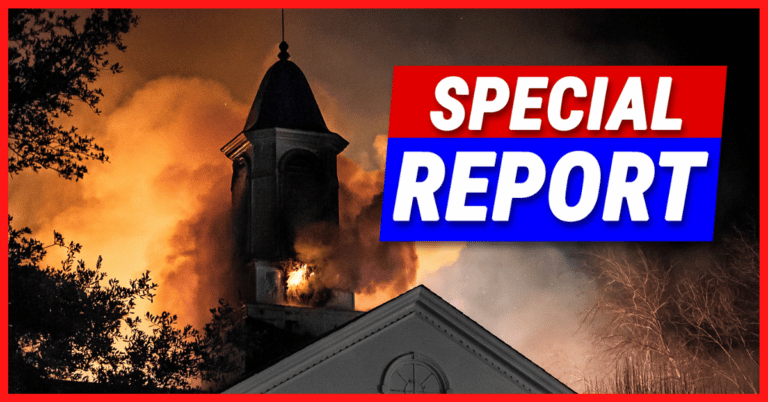 What's Happening:
Even in the midst of tragedy, we can find a glimmer of hope. That's exactly what a community in Bridgeport, TX learned recently.
A fire destroyed Balsora Baptist Church, reducing the building to ash and rubble. But when the smoke cleared, something was still standing.
It's stories like this that can help give you hope in such a dark time in the world. Even when things are looking extra grim and you aren't sure where hope or from where help will come, there is always one place you can turn.
Check out this amazing story!
From Fox News:
A fire tore through a Texas church on Friday, leveling the building and destroying nearly everything inside – except for a cross that was still standing among the charred debris.

The fire broke out at the Balsora Baptist Church in Bridgeport and quickly consumed the structure, according to Wise County Emergency Services Department No. 2.

As the flames were put out and the smoke cleared, firefighters spotted the sign of hope still standing…

"The fire took the structure, but not the cross. A symbol that the building was just that, a building. The Church is the congregation, and where 2 or more gather, there He shall be also."
It's currently unknown how the fire started. Multiple crewed worked to put out the blaze, from at least 11 agencies.
The church roof began to collapse, with crews still inside. Several firefighters were treated by EMS workers.
Despite the destruction of the church, the cross stood standing. The people are taking it as a sign of hope, in the midst of tragedy.
The congregation held a prayer gathering that Sunday, despite the destruction of the church. It's imortant to stand strong together in the midst of lots of pain.
The moment is a reminder that, even when all seems lost, there is still hope for a better tomorrow.
If this story gave you some hope, please consider sharing it on your newsfeed in order to brighten up someone else's day and help them carry on.
Key Takeaways:
A church was burned down in Bridgeport, TX.
Among the burnt ruins, the cross was still standing.
Church members took it as a sign of hope and held a prayer meeting.
Source: Fox News