Texas Dem Escobar Lets Impeachment Mask Slip – Claims American People Cannot Decide If Trump Should Be President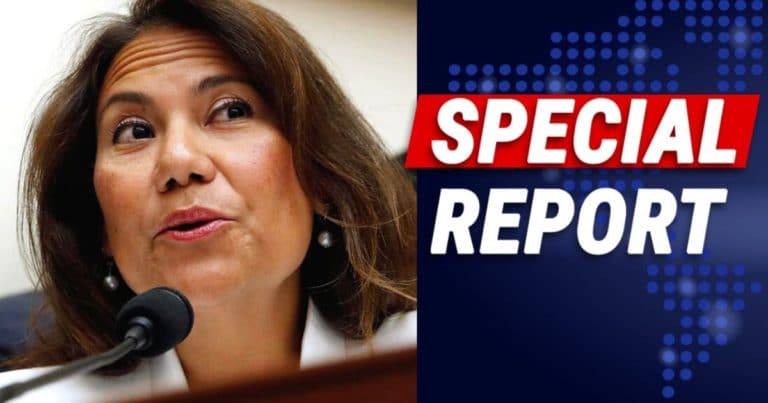 She slips up on live TV – now we know what Democrats think of Americans!
Democrats are racing towards a big, fat brick wall called impeachment. And, thanks to Pelosi, they just hit the accelerator.
Many intelligent people wonder why the Democrat would doom their party over this bogus impeachment. Independent voters are turning on it, big time.
Seems like they are rushing through this entire process. Some might say, just to keep Americans from getting all the facts.
Perhaps Democrats believe that if Trump is impeached, he doesn't have a chance to win 2020.
Don't believe us? Just asked this House Democrat.
From Western Journal:
Democratic Rep. Veronica Escobar of Texas took things a step further in a Thursday interview with CNN, warning against allowing the American people to review the facts of the Ukraine matter and decide for themselves — at the ballot box — whether President Donald Trump should be removed from office…

"If we wait for the courts, if we wait for an election to settle this, then we will have waited too long," Escobar said.
Ouch. Democrat Veronic Escobar admitted that her party does not want the American people to decide… who should be president.
Yes, you read that right. She said that we aren't allowed to decide who should be president.
It seems like the Democrats are ramming this impeachment through, to tarnish Trump's 2020 re-election campaign.
Even if the Senate does not remove him from office, they can use this impeachment thing during the election.
Whichever candidate wins the Democrat's nomination, they'll talk about how the House impeached Trump over and over again.
The entire 2020 Election will be about the impeachment. I guess they think this will give them the upper hand.
It won't be about how Trump's scored one win after another for America. I won't be about how Trump continues to make good on his promises.
It won't be about any issue you or your family cares about. The only thing Democrats will talk about is impeachment.
Because, it seems, they don't want you thinking for yourselves. They don't want you to think about how much this country has improved since Trump entered the White House.
Escobar admits she doesn't want you to decide who should be president. She wants her partisan, biased party in the House making that decision.
Our democracy doesn't seem to matter to Democrats, anymore. What does? Having power, no matter the cost.
Seems like they'd rather live in a communist dictatorship than the Land of the Free, huh?
SHARE if you think Democrats are trying to thwart the will of the American people!
Source: Western Journal