Texas Sheriff Sounds the Border Alarm – The 'World's Deadliest Land Crossing' Is Turning America Marxist, Boyd Says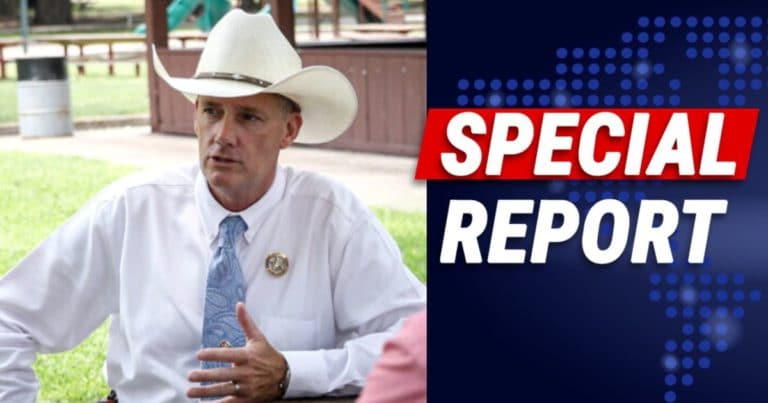 What's Happening:
For a year and a half, Americans have been shocked at the border crisis. Millions upon millions of strangers have flooded the country, yet Biden does nothing.
In fact, he leaves the border open and has bussed and flown these migrants all over the country. But why? One Texas sheriff seems to know. And he's sounding the alarm.
From The Epoch Times:
As a 29-year law enforcement veteran in the region, Boyd said he's never seen a border crisis so bad or border-related crime so egregious…

"We're in a transformation of America from a free Republic to moving to something that's more of a Marxist state."
Sheriff Roy Boyd made the stunning claim that Biden's border crisis is turning a "free Republic" into a "Marxist state."
How, you might ask? The migrant crisis is letting in poor people from all over the world.
These people are allowed to stay, thanks to Joe. They are giving housing, clothing, free medical care, food, and more.
They become totally dependent on the government.
According to Boyd, this is very similar to President Johnson's so-called "war on poverty." LBJ created the welfare state by giving out these same benefits to the poor.
Why? So they would vote for Democrats for the next 200 years.
LBJ started the trend among Democrats to support socialist, or Marxist, welfare programs (where taxpayers provide free stuff to the poor) all so that entire groups blindly vote for the left.
Biden, seeing more and more Americans reject the radicalized Democratic Party, needs new poor people to exploit.
So, he is opening the border so that as many migrants can flood the country as possible. He gives them as much welfare as he can and counts on them to vote for Democrats in elections.
(Which is seemingly one reason why Democrats fight voter ID laws so much.)
It's pretty obvious when you think about it. And this sheriff of 29 years is no fool. He is watching it happen before his eyes.
The only thing that can stop Biden?
If commonsense Americans vote Joe and his party out of office.
Key Takeaways:
Sheriff Roy Boyd accused Biden of trying to create a Marxist state.
He said Biden is trying to use migrants by getting them hooked on welfare.
Like LBJ, Biden expects migrants to vote for Democrats, thanks to the welfare.
Source: The Epoch Times