Tim Scott Rains Down Fire on Biden's Treasury Secretary – He Questions Her Claim that Pro-Choice Is Pro-Economy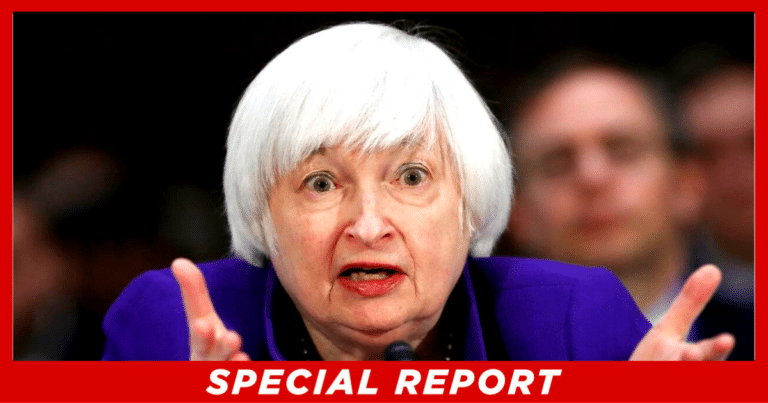 So far, one thing we can say about Biden is that all of his cabinet picks have been consistent.
And by consistent, I mean consistently terrible.
One of his more recent picks is his new Treasury Secretary Janet Yellen. In case you don't recall who she is, she looks like this:
Janet has spouted some very questionable views that haven't really sat well with the public. The list is pretty long, but you might remember this one: "inflation is transitory"
Yeah, how is that working out?
Well with the recent news coming about about the Supreme court and the possibility of a pro-life ruling, of course, we need to weigh in on how that will effect the economy.
Leave it to a Democrat to ask some of the most inane questions.
Yellen was asked by Democratic Senator Bob Menendez from New Jersey about the economic impact of the Supreme Court's decision on Roe v Wade.
Here's what she had to say:
"I believe that eliminating the right of women to make decisions about when and whether to have children would have very damaging effects on the economy, and would set women back decades," Yellen said. "Roe v. Wade and access to reproductive healthcare, including abortion, helped lead to increased labor force participation, it enabled many women to finish school, that increased their earning potential, it allowed women to plan and balance their families and careers, and research shows that it had a favorable impact on the wellbeing and earnings of children."
Well, there's a lot to unpack there.
Is it just me, or does she seem to have some very messed up priorities when it comes to unborn children? I mean c'mon, did she really say that this will lead to a FAVORABLE impact on the wellbeing of children?
There's just one small problem with that statement. Can you figure out how that doesn't add up? Hint: it's not that hard…
Luckily, Senator Tim Scott from South Carolina was having none of this nonsense.
He hit back, and hard.
Some of your comments in response to Bob's question, I found troubling. Just for clarity's sake, did you say that ending the life of a child is good for the labor force participation rate?"
Boom. Love to see people standing up for morals in this country before we all lose our heads.
"I think people can disagree on the issue of being pro-life or pro-abortion, but in the end, I think framing it in the context of labor force participation, it just feels callous to me," Scott added.
Scott is 100% on the money here and I'm glad someone is saying it. People are completely missing the point when it comes to discussions on this topic. You can't talk about justifying economic impact when we are talking about human lives here!
Sometimes it feels like we're all taking crazy pills.
Senator Scott decided to end his comments with an absolute bombshell, and I love him for it.
I mean, how can you ever come back from a comment like this one?
"I'll just simply say that as a guy raised by a black woman in abject poverty, I am thankful to be here as a United States Senator," Scott replied.
Well done sir. Case closed. Discussion over.
Source: Daily Caller