Ninety Days After Trump Sends Troops To Border, Donald Announces Sudden Surge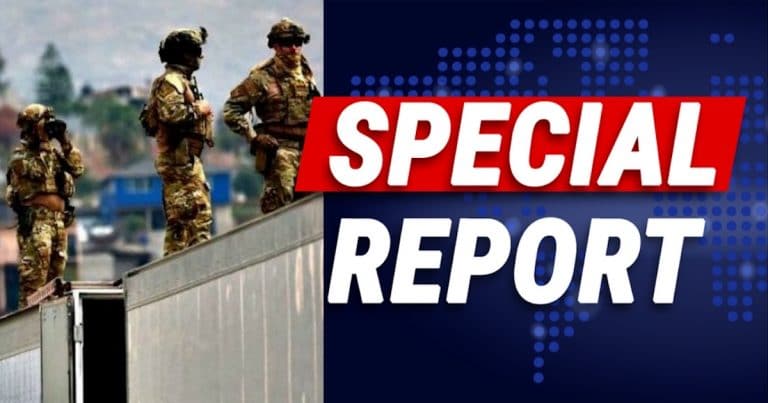 President Trump promised to end the flow of illegals into America. Democrats thought he wouldn't have the guts to make it happen, so they're pretty surprised by the latest developments.
The toxic situation at the border has been exploited by cartels, smugglers, and would-be terrorists. Even though our border presents a clear security issue, Democrats refuse to help.
Liberals have made it very clear that they care more about criminal aliens than they do Americans.
They would rather see citizens die at the hands of drug cartels than secure the border. In fact, their continued support of illegal aliens—like leaders in California—have only emboldened illegals to rush the border.
Which is why the White House's latest announcement comes as no surprise.
From LMT Online:
U.S. border agents made more than 50,000 arrests in May for the third month in a row, the Department of Homeland Security said Wednesday, an indication that escalating enforcement tactics by the Trump administration – including separating migrant parents from their children – has not had an immediate deterrent effect.
DHS took 51,912 migrants into custody in May, more than three times the number detained in May 2017, a period when illegal immigration plunged following Donald Trump's inauguration.
Arrests at the border this spring have jumped to their highest levels since Trump took office, and the reversal has left the president furious at Homeland Security Secretary Kirstjen Nielsen and other aides who he believes aren't doing enough to stop the trend.
Why the surge? Blame the Democrats. They have prevented Trump from securing the border properly. Massive resources and manpower must be used to prevent this shocking numbers of people from entering illegally. These are "nice" people, as the liberals would have you think. These are criminals.
Drug cartels continue to exploit the border, smuggling in drugs, weapons, and people. Illegal immigrant families are forced to submit to these vile smugglers, rather than go through the legal process.
Immigration activists—people who aid illegal aliens—all but encourage caravans to rush the border. They assume the massive numbers of people pressing to get in will be too much for our border patrol. They are wrong.
These numbers will remain high until Congress actually goes to work. We're way beyond debating if we should build the wall. It must go up. No American can honestly support 50,000+ illegals trying to get in every month. It's unacceptable.
The Democrats must work to get the wall built, or we won't have a country left.
Source: LMT Online