Truckers Stand Up to Police Defunders – Polls Says 79% Will Refuse To Deliver To Those Cities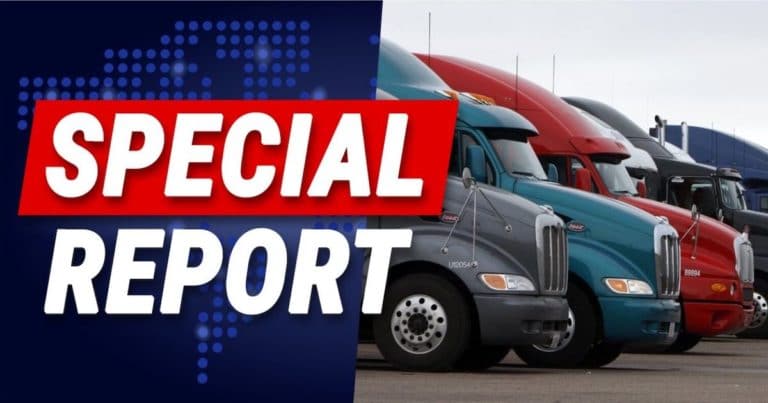 Tension continues to grow across the country as calls to defund police departments intensify.
Among those voicing their concern for the idea, however, are some of the nation's most important people: truck drivers.
As cities discuss defunding police, truck drivers worry that such a move will prove dangerous for their profession.
In fact, the overwhelming majority say they won't deliver to areas without an established police presence.
Via CDL Life:
Seventy-seven percent of truck drivers say they will refuse to deliver freight to cities with defunded police departments.
Truck driving is already one of the most dangerous jobs in the United States. In fact, in 2018, the U.S. Bureau of Labor Statistics stated that truck driving was the single deadliest job in the country.
And most recently, truck drivers have been on the front lines for the global pandemic.
Why is this so important?
If nearly 80 percent of truck drivers won't enter "no police" areas, that could theoretically have disastrous results for our supply chain.
With so many stores and businesses unable to receive shipments, unemployment and crime could rise dramatically in the ensuing aftermath.
Truckers were given the opportunity to explain why they'd feel uncomfortable delivering to such zones, and here are a few of their responses.
…if something was to happen and you have to take matters into your own hands, and then you risk being prosecuted for protecting yourself.

I will not deliver to an area with a disbanded police department. My life matter and I do this for my family.

We are already at the mercy of these towns and cities with laws and hate against us for parking, getting a meal or even using a restroom.

Simple. We may not like it all the time, but laws and order is necessary.
Others said they have to worry about the safety of their customers as well. And a few said they already deliver to areas that "can be dicey."
Recently, the Minneapolis City Council announced their support to defund their police department, and other cities could follow suit.
However, they may wish to reassess given this revelation, courtesy of truck drivers. Without the drivers, there might be serious economic repercussions.
Given these poll results, one might also wonder if consumers would feel safe in areas without any police protection.
Key Takeaways:
According to a new poll, the majority – 79 percent – of truck drivers say they won't deliver to areas without a police presence.
Truck driving is already one of the most dangerous jobs in the country.
If the majority of drivers do refuse to deliver to such areas, the economic impact could be dramatic.
Source: CDL Life