Donald Trump Just Made His 2024 Decision – Insider Claims Donald is Fired Up and Has Made Up His Mind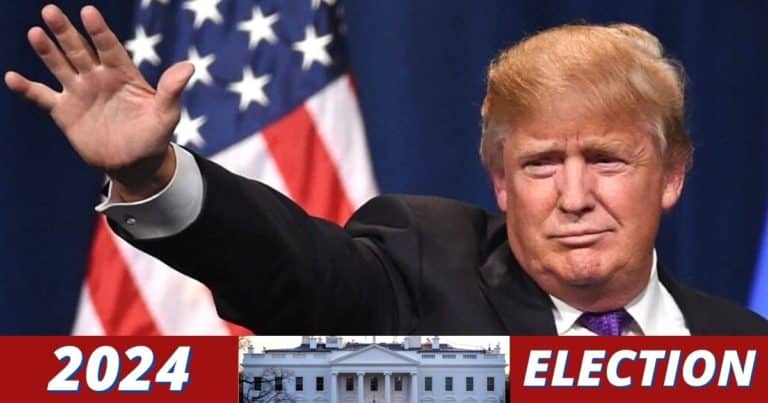 What's Happening:
The nation was rocked by the news that Biden's FBI raided the home of 45th President Donald Trump. Many Republicans (probably rightly) believe this is just more persecution from the liberal establishment.
Perhaps the left is hoping Trump is battered and bruised. Maybe discouraged right about now. But a group of Republicans met with him the next day. And guess what he told them?
From New York Post:
Former President Donald Trump remains "very upbeat" and "fired up" despite the FBI's raid on Mar-a-Lago — and has "made up his mind" about running in 2024, according to a Republican lawmaker who met him late Tuesday…

"He said we are going to like his decision and it is only a matter of time before he will make that decision known," Banks told Fox News of Trump, who hours earlier released a campaign-style video promising that "the best is yet to come."
A group of about a dozen Republican representatives met with Trump for a 3-hour lunch, just a day after the FBI raided his home.
Rep. Jim Banks revealed that, instead of being angry and embattled, Trump was "very upbeat," even "fired up."
The team of GOP lawmakers discussed the upcoming elections and their strategy to take back Congress. They even discussed what they'd do next after they won the majority.
Banks said Trump didn't appear defeated "in the least bit." In fact, the 45th president revealed he "made up his mind" about a 2024 bid.
Trump did not tell them what his plans were, but he said they would "like his decision."
This has been the strongest indication we've heard about Trump's 2024 plans. He has yet to say if he is running again.
But many supporters, including Republican leaders and close allies, have said Trump will in fact enter the race.
Rumors appeared late last month that Trump would announce his plans before the midterms, perhaps even before the summer ends.
Some might believe the FBI raid was a move by the left to discourage or derail Trump's plans.
The liberal media has certainly had a field day with the news—all but pronouncing judgment on Trump before all the details have come out.
But it seems like, once again, the left won't get what it wants.
Key Takeaways:
Republican Rep. Jim Banks revealed Trump is "upbeat" and "fired up."
Banks and a group of Republicans met with 45 a day after the FBI raid.
The congressman said Trump had "made up his mind" about 2024.
Source: New York Post