Hours After President Trump Is Acquitted – Donald Stands Just Feet From Nancy And Shows Off Newspaper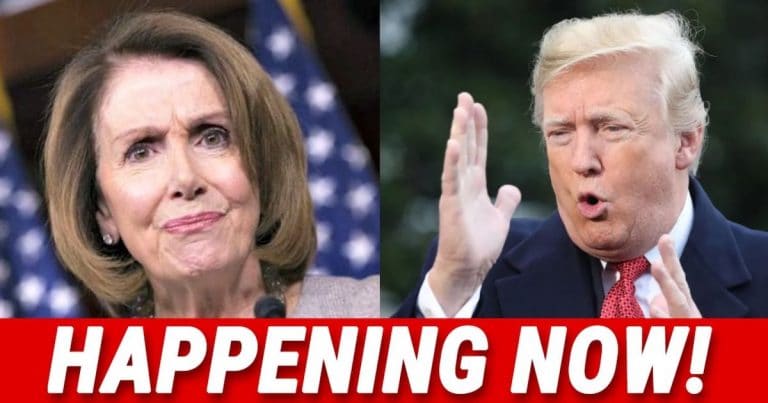 Let's say it loud and proud, fellow patriots:
Donald Trump has been declared innocent.
Now that the Senate has cleared the President of all wrongdoing, much of America is celebrating.
This includes Trump himself, who was overjoyed to see today's headlines.
In fact, he was so happy that he took the opportunity to really stick it to House Speaker Nancy Pelosi…
She tore up his State of the Union speech on public TV, so Trump decided to be the ultimate showman.
Via Fox News:
President Trump proudly displayed two newspapers with blaring 'Acquitted' headlines Thursday morning, waving them before a National Prayer Breakfast audience in his first appearance since he was declared not guilty in his Senate impeachment trial.

The president brandished the headlines mere feet from House Speaker Nancy Pelosi, D-Calif., after both arrived at the breakfast.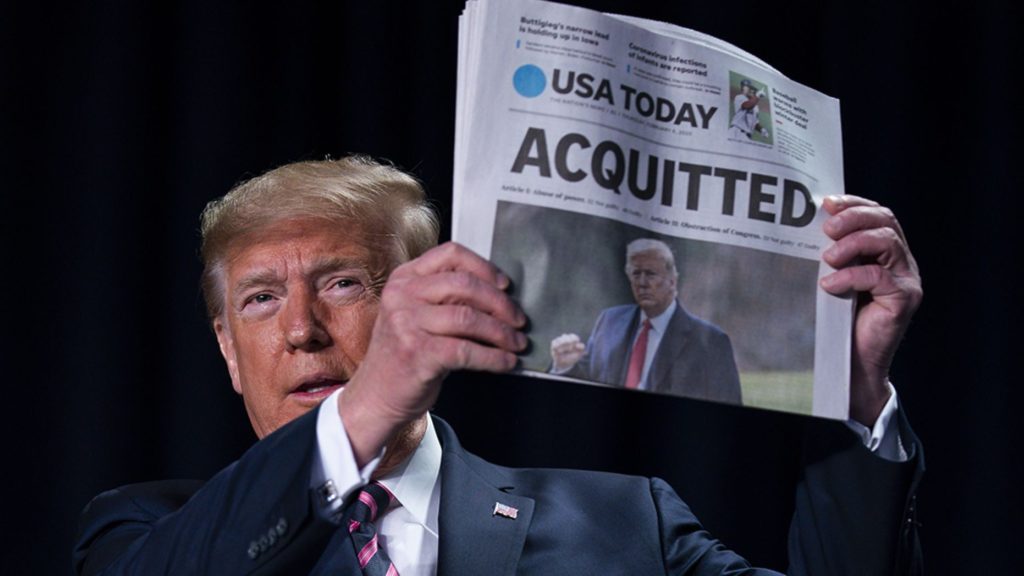 Doesn't get any better than that!
But wait—Trump wasn't done putting Pelosi in her place.
After he showed off both the USA Today and Washington Post "Acquittal" headlines, he referred to Nancy saying she "prayed" for the President:
I don't like people who use their faith as justification for doing what they know is wrong, nor do I like people who say 'I pray for you' when you know that is not so.
Now THAT'S what I wanted to hear him say!
Millions voted for Trump because they believe he speaks the truth. Similarly, they like a straight-shooter who gets things done.
POTUS has proven to be an effective leader. On the flip side, I believe we've seen nothing but obstruction from the Democrat party.
Trump even went a step further, calling impeachment a "terrible ordeal by some very dishonest and corrupt people."
That might be an understatement!
In the eyes of many, the impeachment process was nothing but a giant waste of time and taxpayer money.
As a result, I imagine most citizens are happy to see it end. Trump has been exonerated and now, it's clear sailing toward the 2020 election!
SHARE if you're also celebrating Trump's historic acquittal!
Source: Fox News