Liberals Sound The Alarm On Trump – They Just Admitted Against Biden In 2024, He's 'An Extremely Serious Threat'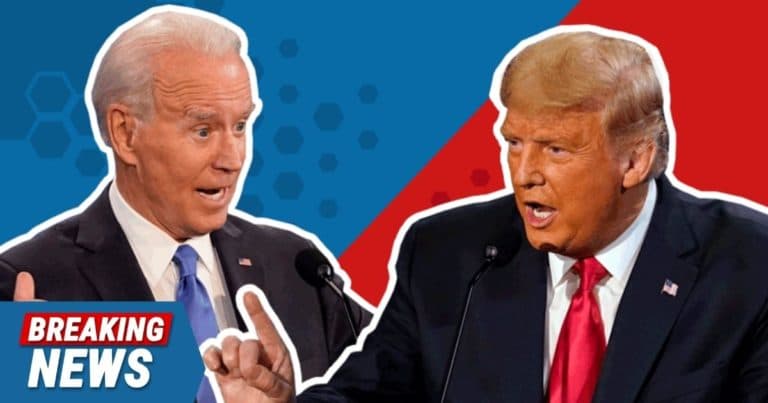 What's Happening:
There's no question about it, Joe Biden is in big trouble. Over this last year, his approval has sunk to greater and greater lows. And this month, we saw Democrats suffer big losses in the elections. They even lost blue Virginia to Republicans—something very few experts predicted.
This doesn't bode well for the 2022 midterms. But what about 2024? We know that Americans don't even want Biden to run again. But liberals are getting even more worried. Because every major poll reveals an "extremely serious threat" they failed to get rid of.
From Twitter:
Donald Trump is an extremely serious threat to become president of the United States again. https://t.co/2LbQMD1fCZ pic.twitter.com/Si2IbHLb56

— Will Saletan (@saletan) November 9, 2021
Donald Trump is an extremely serious threat to become president of the United States again.
This is why Democrats were trying so hard to impeach Trump in January and slander him in their ongoing "commission." They know that, if Trump can run again for president, he always posed a serious threat to their agenda. And now, with Biden losing in every poll imaginable, Trump is on the verge of a comeback three years before the election.
Democrats are saying he is an "extremely serious threat." Major polls have him beating Biden by a strong margin. As Biden continues to fail, those numbers can become even greater. If Trump announces his campaign in the next year, expect those numbers to skyrocket in his favor.
With every passing day, Biden ignores the pleas of regular Americans to push an unpopular agenda. He has triggered numerous crises and does nothing to fix them. In fact, his agenda only makes these problems worse.
Which crisis should I point to first? The (still) open border? The out-of-control inflation? The rising fuel costs? The crime epidemic in large cities? How about the Taliban's comeback or Iran's resurgence? I can go on, of course. Biden is poised to become the most-hated president in modern history.
And yet his administration does nothing to stop the bleeding. Perhaps they need to look at these polls and wake up. Maybe get rid of this guy before it's too late. The 25th Amendment exists for a reason, boys. Perhaps you should give Biden an early retirement and get the country back on track?
Not that we think they know how.
Key Takeaways:
Democrats are panicking, as Trump leads Biden in recent presidential polls.
Liberals fear Trump is an "extremely serious threat" to becoming president again.
This comes as Biden fails on nearly every issue.
Source: Twitter