Trump Signs New "America First" Executive Order – Donald Just Ensured US Citizens Will Get The Vaccine Before Other Countries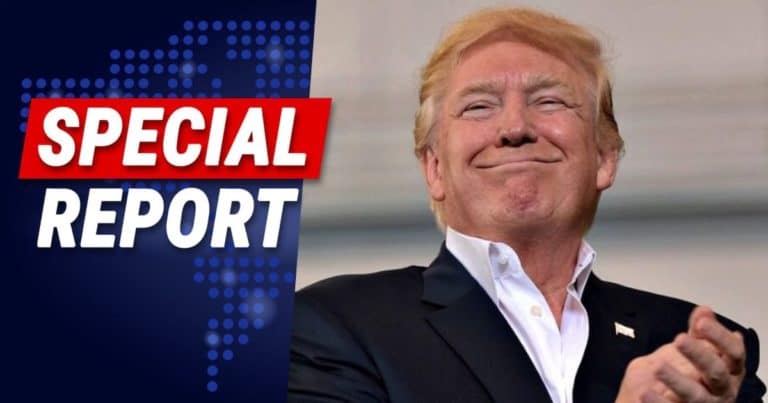 The Donald Trump campaign embraced the "America First" motto very early on. It went well with the "Make America Great Again" slogan.
And throughout his tenure, Trump has tried to remain true to both. He has often touted his dedication to the American people as well.
Now, he's made another move that will likely resonate with his followers.
For months, scientists and doctors have been racing to prepare a coronavirus vaccine, and we're thankfully close to getting one.
However, the question remained: who should get it first, and when?
Well, that question has been answered – at least in part – by a new Trump executive order.
Via Fox News:
President Trump is expected to sign an executive order Tuesday that will ensure all Americans have access to the coronavirus vaccine before the U.S. government begins aiding nations around the world.
Senior administration officials said that Trump's focus remains firmly on American citizens.
This comes not long after last week's Food and Drug Administration meeting concerning Pfizer and BioNTech's application for authorization of the vaccine.
That authorization could arrive as early as Friday, and FDA commissioner Stephen Hahn said things are "moving very quickly."
In response, the President wanted to be sure the vaccine first goes to Americans in need.
The goal is simple, according to another Trump official:
The priority is to make sure we distribute these vaccines to Americans before we start shipping them around the world to get international access.
The order does not shut other countries out, however.
Officials were quick to remind everyone that the executive order will identify "who will be working with the international aspect of this."
They want to be sure they have an "excess supply" to meet demand all around the world.
But to kick things off, the vaccine will be delivered to the American people, and as quickly as possible.
For Trump fans, this is another example of the President prioritizing his country's citizens, and it will likely gain him some applause.
Key Takeaways:
President Trump plans to sign an executive order today.
It says the coronavirus vaccine must be delivered to Americans in need first.
It stipulates that we need an excess supply of the vaccine for the rest of the world.
Trump followers will undoubtedly view this as another "America First" example of the President's leadership.
Source: Fox News