Trump Sings "God Bless America" With Wounded Vet – Then His Touching Gesture Blows The Crowd Away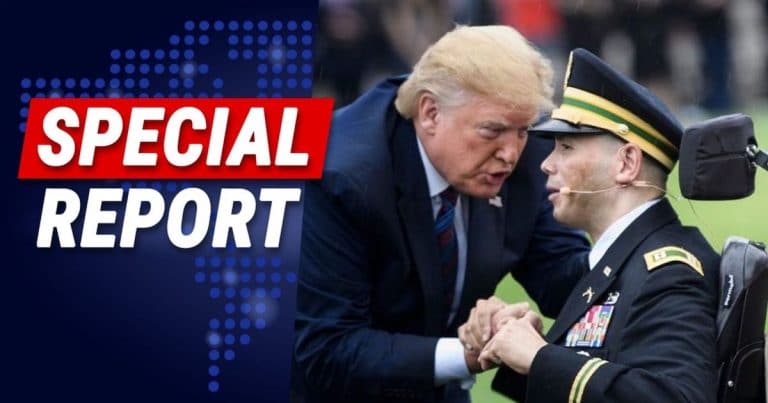 Forget the impeachment talks for a minute.
Let's all remember that President Donald Trump is a kindhearted and honorable individual. He loves this country, and he loves its citizens.
Furthermore, he has proven many times that he fully supports America's military, and especially its veterans.
That's why nobody should've been surprised when Donald welcomed Army Capt. Luis Avila with the most touching gesture of his administration.
First, Trump sang "God Bless America" alongside Avila and a military choir. That was amazing all by itself!
But then our President took things a step further:
President Donald Trump hugged Army Capt. Luis Avila on Monday after the wounded warrior sang 'God Bless America' at a ceremony welcoming the incoming chairman of the Joint Chiefs of Staff.
That's MY President!
Avila is one of our nation's true heroes; he was wounded by an IED (improvised explosive device) in 2011 in Afghanistan.
He lost his leg in that terrible accident, and has since suffered through two strokes and two heart attacks.
Avila spent 40 days in a coma and though he remains mostly paralyzed, he's showing progress thanks to music therapy.
And I bet this wonderful gesture from Trump helped a great deal, too!
This is the sort of news that doesn't get anywhere near enough attention from the mainstream media.
They seem to only be interested in the negative drama, and in questioning and even attacking POTUS at every turn.
But we're not about to let these incredible moments go unreported, because they deserve to be appreciated!
Source: Breitbart