Trump Gives 3 American Companies The Green Light – Tells Them To "Go For It," Start Mass Producing Ventilators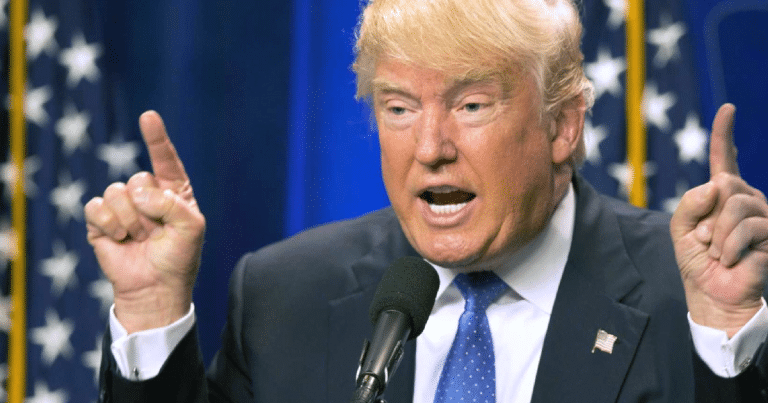 Donald Trump is working around the clock to help U.S. citizens.
I believe this is true. I believe he's doing absolutely everything he can to combat the spread of the coronavirus.
This includes lifting red tape restrictions for the FDA, working on stimulus packages, and pushing testing forward.
But Trump also believes in something else — using American companies to help Americans.
If this epidemic has proven one thing, it has proven that we have a dangerous dependence on China and overseas manufacturing.
So, it makes PERFECT sense to give companies like Ford the green light to mass-produce ventilators.
The President made the announcement on Twitter: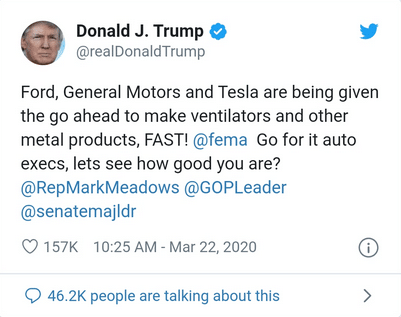 Ford, General Motors and Tesla are being given the go ahead to make ventilators and other metal products, FAST.

Go for it auto execs, lets see how good your are?
Fantastic!
And Trump's timing was perfect, too: it came not long after FEMA boss Peter Gaynor told CNN that the White House hadn't ordered any companies to produce ventilators.
Well, now they've got the big OK.
To me, there's some wonderful poetry in tapping businesses like Ford and GM. These companies helped build this great country.
Therefore, using them to help us fight an epidemic is just logical.
And maybe it's a sign of the future. Maybe this means we'll be seeing more reliance on U.S.-based companies in the future, and LESS reliance on foreign powers.
Personally, I love this idea—get the ventilators rolling, guys!
SHARE if you think Trump is doing a great job dealing with COVID!
Source: The Daily Caller