Donald Trump Just Made A MASSIVE Surprise Appearance, Drops Jaws Everywhere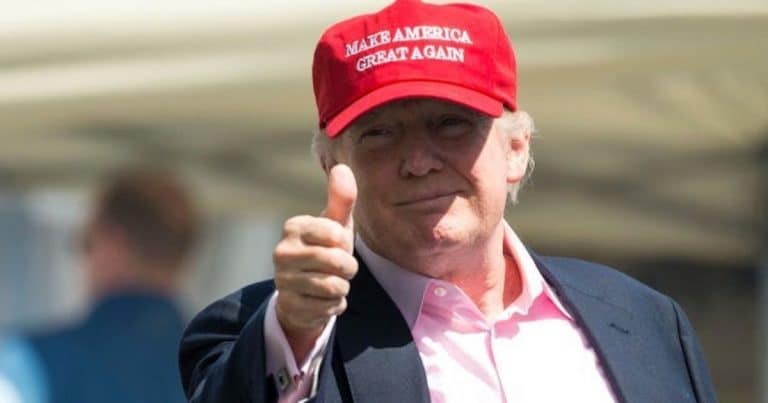 What's Happening:
Since Trump left the White House, Americans have been clamoring for glimpses of Number 45.
That includes even the MSM, who are watching their ratings nosedive without Trump-driven news.
His latest, greatest appearance was when he gave his first speech since January. He wowed the crowds at CPAC, proving he is still the head honcho of the GOP.
Aside from that, he's laying low at Mar-a-Largo, releasing statements through his office.
But he just made a surprise appearance that got many Trump supporters excited.
From Fox News:
Former President Donald Trump made a surprise appearance at a campaign event this weekend for Sarah Sanders in her run for Arkansas governor…

"Another great weekend on the campaign trail featuring a surprise appearance at one of my events by President Trump!" she wrote on Twitter.

Sarah Sanders was one of Trump's top staffers, serving as his press secretary for several years. She stepped away, with the intent of entering politics.
Back then, President Trump offered enthusiastic encouragement for Sanders' run.
Now that Sanders has hit the campaign trail for governor of Arkansas, every event counts. As she musters up support in her home state, a few key endorsements would be very crucial.
So, when Trump made a surprise visit during the weekend, it was sure to go over like gangbusters.
It's easy to see that Sanders' supporters are also Trump supporters. But those who may have been on the fence will be quickly won over by a surprise appearance by the president.
Arkansas is decidedly Trump country. An endorsement from him would certainly clinch Sanders' victory.
And it also casts light on Trump's future role in the GOP and American politics. Nobody knows what he'll do, come 2024. But many hoped he would get involved in the 2022 midterm elections.
His recent interactions suggest he will be very active in that election cycle. We can expect to see more from him as we get closer to November 2022.
This also proves that that left's attempts to derail his legacy have already failed. As Biden and congressional Democrats crash and burn, Trump continues to be a rock star among Americans.
We shouldn't be surprised if he throws his hat into the ring once again.
Key Takeaways:
President Trump made a surprise appearance at a Sander Sanders' campaign event.
Trump has long endorsed Sanders for a governor run in her home state.
The president has been increasing his appearances since leaving office.
Source: Fox News