President Trump Sends "Bernie Stocks" Plummeting – Sanders Won't Live This One Down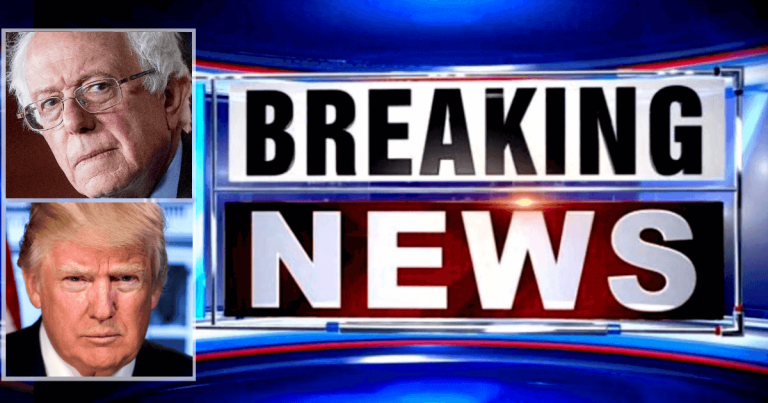 Donald just BURNED Bernie!
What is it with Democrats trying to steal all the credit for Trump's success?
(The same way they want to steal your money through taxes and give it to freeloaders!)
Donald Trump has supercharged our economy. He's building the wall. And most importantly, he's putting America first.
Bernie Sanders just said Trump doesn't deserve credit for the amazing turnaround our economy has enjoyed.
But Trump sent Bernie's stock plummeting.
From Twitter: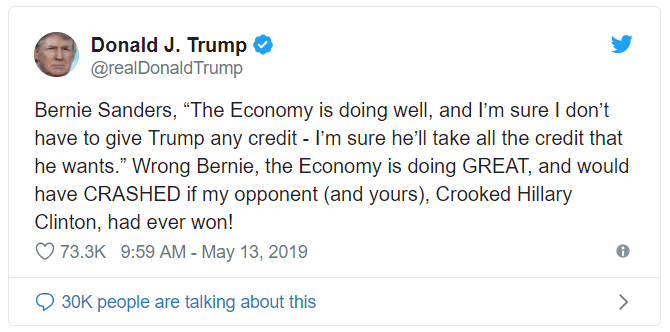 Boom! That's gotta hurt, eh Bernie?
Bernie claimed he didn't have to give Trump any credit for the economy doing so well. But Trump reminded him that things wouldn't be so great, had Hillary won the election.
Very true. But let's take it another step: our economy wouldn't be doing nearly as well—had Bernie or Hillary been elected.
And it would take a nose-dive if, by some terrible tragedy, Bernie won in 2020.
You know Bernie calls himself a "Democratic Socialist." That's like saying you're a "friendly bank robber."
Bernie wants to create Medicare for All, slash our military, make college free, and give universal income to freeloaders.
To pay for all this, he would raise taxes, pass heavy regulation, and crush our energy independence.
In short, he would destroy our economy.
But Bernie could only do all that if our economy was in the toilet. How can he convince Americans to elect him—and create a socialist America—if Trump's policies are working?
So, like all Democrats, he's lying about Trump's success. Pretty pathetic, if you ask me.
Trump has scored one win after another. Simply because he's putting Americans first.
Bernie would be like all the others. He'd pretend to want to help Americans, but his policies would only help the global rich elite. Leaving you and me in the dust.
SHARE if you think the Trump Train is going to roll right over Bernie!
Source: Twitter