Trump's Fundraising Results Are In – He Could Quadruple His 2016 Totals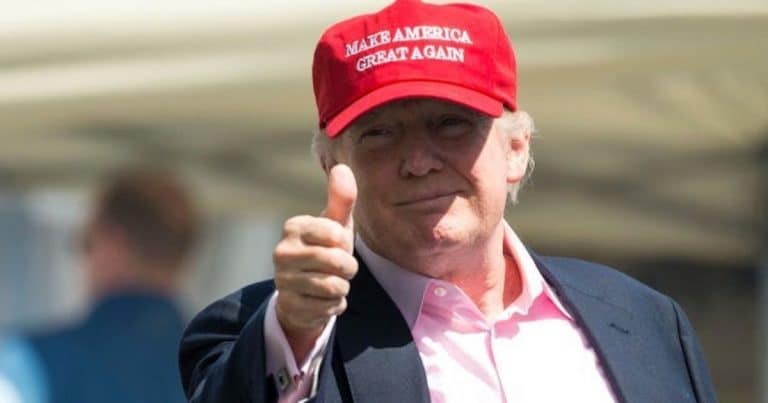 Donald is on a record-setting pace – he's putting Clinton and Obama to shame!
Over the last few months, Democrats have been revving up their 2020 machines.
The media has really focused on the 20+ liberal candidates fighting to take the White House from Donald Trump.
But I don't see a lot of reporting on Trump's fundraising efforts, which are easily outpacing those of his Democrat rivals.
In fact, Trump is stuffing his war chest for 2020 at a record pace … a pace neither Hillary Clinton or Barack Obama could match.
And in fact, Donald is slated to raise 4 times what he brought in for his 2016 run!
From Washington Examiner:
"GOP fundraisers said the president could rake in $2 billion to $2.5 billion, a record amount that is double what Clinton and former President Barack Obama took in for their most recent campaigns.

It would also be four times the $600 million Trump raised in 2016."
According to projections, Trump could raise well over $2 billion dollars. From what we know, it's more than Obama or Clinton were able to raise in their last campaigns.
You also have to keep in mind, Clinton out-raised Trump in 2016 2-to-1 … and she still lost.
Given that, imagine the edge Trump should have over his Democrat rivals next year. Currently, no Democrat candidate is even close to these fundraising projections.
It's clear now that many Americans are voting with their wallets; passionate patriots are shelling out cash so Trump can keep America great (KAG).
They've seen the hard work he's done over the last two and a half years, and that hard work is paying off.
Best of all, he continues to fulfill his promises to the American people. So it's not surprising they're willing to back his upcoming 2020 bid.
However, remember one thing:
None of these means anything if Americans don't get out and vote in November 2020.
Those billions will only go so far; in the end, it's YOUR vote that counts most!
SHARE if you're on the Trump Train for 2020!
Source: Washington Examiner