Trump Tackles Bloomberg In Superbowl Interview – Sends 'Little Mike' Spinning Over His Debate Box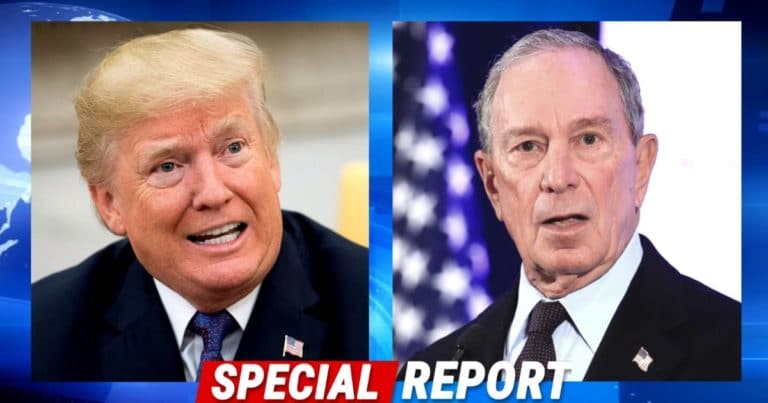 Super Bowl LIV aired last night. And, if you watched it, you probably saw that President Trump and Mike Bloomberg went toe-to-toe.
Bloomberg spent millions on ads that aired before and during the big game. One in particular touted his gun control agenda—one that most Second Amendment supporters will call radical.
But he wasn't the only candidate getting airtime during the Super Bowl. President Trump aired two ads as well. One powerfully celebrated his prison reform success.
Who came out on top? Looks like the taller one did.
Just before the game, Trump appeared on an interview. He took a minute to cut Bloomberg down to size.
From Market Watch:
The first clip from Sean Hannity's big interview with the president features POTUS talking about Michael Bloomberg's height. pic.twitter.com/iRdX3fFUTg

— Brian Stelter (@brianstelter) February 2, 2020
'You know, now he wants a box for the debates to stand on. OK. It's OK. There's nothing wrong. You can be short. Why should he get a box to stand on. He wants a box for the debates. Why should he be entitled? Does that mean everyone else gets a box?'
Ouch, talk about painful. Trump took a minute during his interview with Sean Hannity to discuss Mike Bloomberg.
The former New York mayor (and former Republican) is spending big bucks on ads for his primary campaign.
Even though he didn't originally qualify, the Democrats are bending the rules to let him show up on the next debate.
Trump points out the unfairness of what they are doing. Including—get this—giving the vertically challenged Bloomberg a box to stand on!
I mean… really Mike? You were the mayor of one of the biggest cities in the world, but you need a box to feel good about yourself?
The president brings up a good point: why shouldn't the other debaters get a box too? Why should Bloomberg be the only one with that kind of advantage?
Hey, your height shouldn't factor into being president, right? A person's ability to lead shouldn't depend on his or her ability to reach grocery items on the top shelf.
Yet it seems like Bloomberg is requesting a box, so he won't look so short compared to the other candidates.
Pretty painful, if you ask me. Shouldn't voters be impressed (or not) by his ideas? Maybe Bloomberg doesn't have enough of those to go around?
SHARE if you agree Bloomberg shouldn't get a debate box!
Source: Market Watch