Trump Ditches 'Build The Wall' – Announces New Slogan For 2019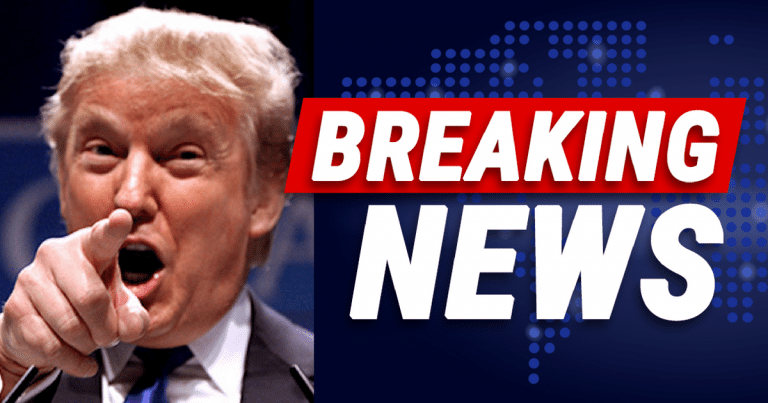 Donald is saying goodbye to 'Build The Wall' – but he's got a new one for Trump supporters to chant.
Nancy Pelosi has built a wall against Trump with her government shutdown, but he is doing everything he can to tear it down.
He's addressed the American people, he's provided endless facts about why we need the wall, and he's grounded Pelosi from her expensive European trip.
His latest move, however, is sure to set his supporters on fire.
He just ditched his old slogan, Built The Wall, for a new one.
From Fox News: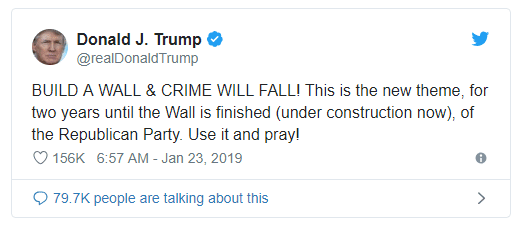 "BUILD A WALL & CRIME WILL FALL! This is the new theme, for two years until the Wall is finished (under construction now), of the Republican Party. Use it and pray!" Trump tweeted Wednesday morning.

The slogan would seemingly replace the old, "BUILD THAT WALL" that so many Trump supporters have chanted at rallies across the country since he announced his intention to run for president in 2015.
SHARE if you love Trump's new slogan to end the Democrat shutdown!
That's one of the catchiest slogans I've ever heard! I can hear his massive crowd of supporters chanting it now.
And Nancy Pelosi and her fellow Democrats cringing because they can't avoid the truth – border walls are effective and lower crime.
The Senate is voting on two bills, one Republican and one Democrat, that are both likely to fail today.
But it looks like Pelosi is starting to break, offering $5B to Trump for border security (but no wall). And 30 Democrats are pressuring Pelosi to give Trump his vote on the wall.
Democrats know they're in trouble, and if his new slogan goes viral across the internet and is heard around the nation, they'll be running scared.
SHARE to get out Trump's new slogan – BUILD A WALL & CRIME WILL FALL!
Source: Fox News