President Trump Drops In On California – Orders Sanctuary Los Angeles To Clean Up Now Or 'We Will Do It'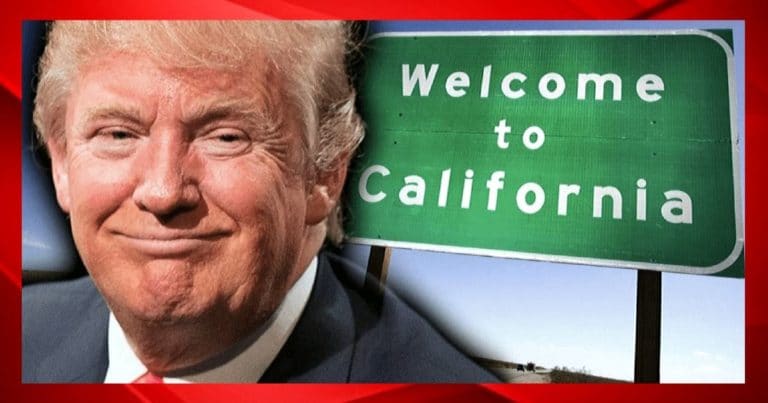 As Democrats wasted time debating, Trump is on the move. He's on a big swing across the West.
Stopping in California, he got some very important work done.
Did you know that the 2028 Olympics will be held in the United States? They are going to be hosted in… Los Angeles.
Oh goodness.
If you've been paying attention to the news, L.A. hasn't been a "shining" example of American excellence.
In a word, it's a mess. And Trump sounded the alarm. If they can't clean up their act, they'll regret it.
From Daily Wire:
On Tuesday, meeting with the Los Angeles Olympic committees to discuss the 2028 Summer Olympics in Los Angeles, President Trump bluntly warned the city's leaders that their ineptitude regarding the homeless situation won't be tolerated, asserting that if Los Angeles doesn't "clean it up fast," the Trump administration would.
Calling out the Democrat leadership of California, Trump warned if L.A. can't clean up its act, the federal government will.
Why, oh why, in the world did they pick Los Angeles to host the Olympics? There must be hundreds of better cities in our country to choose from.
California—and much of the West Coast—is overrun with problems, thanks to their Democratic leadership.
In fact, Los Angeles is the only city with the unique distinction of having the Medieval plague.
Good job, you guys!
Trump slammed California's leadership for failing at the very basics. At least we could count on the government keeping the streets clean and safe, right?
Wrong.
And if Democrats think they can sit back and let the White House take over, think again. The president will get it done, but not without a price.
Something tells me California will suffer cutbacks or other penalties, because their government failed to do its job.
Hmm… I wonder if Gov. Newsom will be able to spin that for voters?
SHARE to tell Trump it's time to  clean up Los Angeles!
Source: Daily Wire