Trump Just Caught Up To Obama – After Trailing For Years, He Ties Barry For 'Most Admired Man' Poll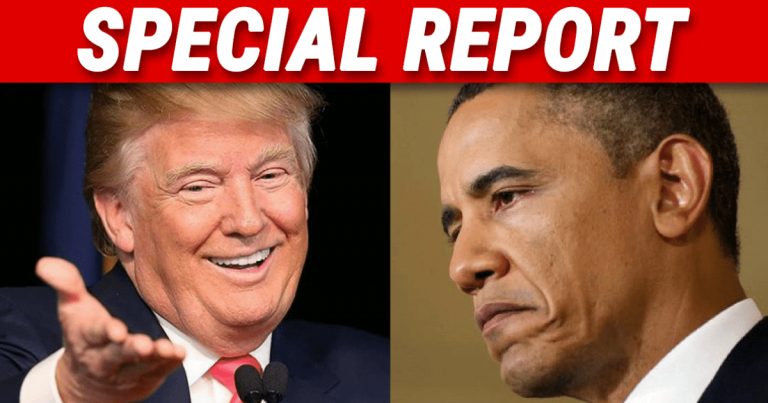 The media is determined to undermine President Trump. With that in mind, do you believe any of their polls?
It's very easy to sway a poll. And considering how far-left our media has become, it's hard to trust any "unbiased" pollster out there.
For the last two years, one liberal outlet has continued to give former President Barack Obama their big away.
But this year, even with their left-leaning sample base, Trump just caught up.
From Fox News:
An annual Gallup poll shows President Trump sharing the title of "most admired man" with former President Barack Obama for the first time…

Both Trump and Obama received 18 percent, while 11 percent of participants chose someone they know and 25 percent did not pick anyone.
Voters of Gallup's "most admired man" poll has split the results between Obama and President Trump.
Both men received 18 percent of those who participated in the poll.
You have to wonder why anyone would continue to admire Obama for any reason.
Even Democrats have to acknowledge the fact that he's no longer the POTUS. And his years in office produced little for our country.
Yet, even with all that, they continued to say they admired him the most. Gross.
Only now, after three years of winning, did Trump top the list.
I guess even liberals had to acknowledge the continued success of the Trump administration.
He keeps scoring one victory after another. All for the American people.
Even with a constant stream of negative coverage and fake news, Trump continues to churn out wins.
The economy is soaring, we've got the best trade deals ever, and ISIS is defeated.
Only the craziest (or most dishonest) of Democrats can deny that kind of track record.
Perhaps that's why he's tied with Obama on this list?
Next year, maybe, these readers will give Trump the top spot all on his own.
SHARE if you admire Trump more than Obama!
Source: Fox News