Trump Transcript Links Clinton To Ukraine – Then Hillary Goes All Out, Calls For His Downfall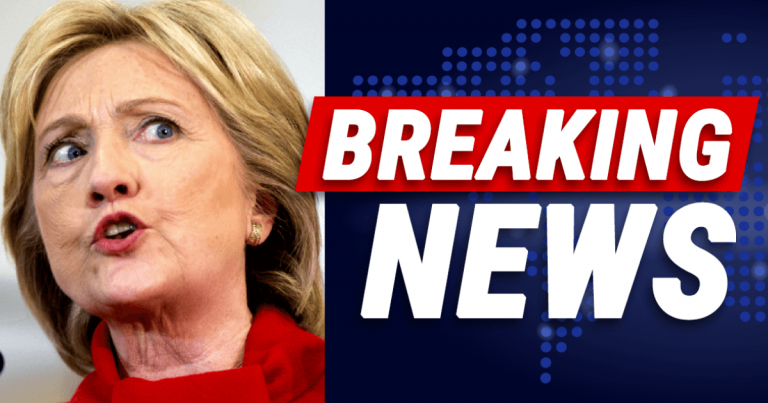 The Trump transcripts are out and one thing looks clear:
Democrats are once again turning Washington upside down with no evidence.
Despite Democrats calling for impeachment, the freshly released documents are showing that Trump didn't mention withholding aid even once during the call.
But Trump did bring up something else in his discussions with the Ukrainian president:
In fact, it has more to do with Hillary Clinton than it does with Biden
That's right, according to the official transcripts just released today, Trump asked Ukraine to look into Crowdstrike.
If you've forgotten, that's the company that stored Clinton's emails and hid info from the U.S. government.
And oh yes, they got away with it, too — they were never prosecuted!
But Donald isn't about to let this go:

I would like you to find out what happened with the whole situation with Ukraine, they say Crowdstrike…

I guess you  have one of your wealthy people… The server, they say Ukraine has it.
Trump is essentially asking the Ukraine to cough up the goods on Hillary!
If they've still got the servers, that means we can still recover the emails, and Trump wants to get his hands on them.
No surprise, Clinton wasn't too happy about this.
Is it any coincidence that she immediately jumped on Twitter to call for Trump's impeachment?
He is a clear and present danger… I support impeachment.
Yeah, of course you do. Because with Trump out of office, you don't have to worry about your past coming out.
It's incredibly ironic that you talk about "betraying" America, Hillary, because much of this country is positive YOU did exactly that.
But Trump isn't going anywhere. And he hasn't forgotten about you!
Jack Posobiec said best: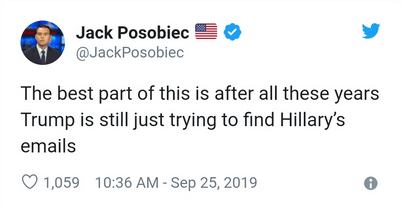 The best part of this is after all these years Trump is still just trying to find Hillary's emails.
Trump got the scent years ago, and he hasn't lost it: he's like a bulldog chasing down his prey!
So not only is POTUS in the clear, he has also proved that he won't rest until Crooked Hillary gets what's coming to her.
Hopefully, it's just one word: justice.
SHARE if you hope Trump gets Ukraine to deliver Hillary's emails!
Sources: Twitter