Trump Unveils His First Actions for 2nd Term Comeback – In 2025, Donald Plans Major Federal Purge, to Fire up to 50,000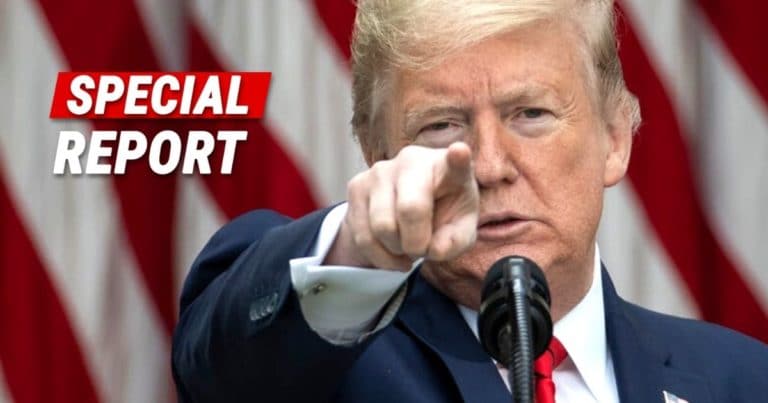 What's Happening:
Donald Trump promised to "drain the Swamp" in 2016. And, for four years, he kept his promise.
Under Joe Biden, the swamp came roaring back—as he expanded government to a monstrous size.
But, it seems that if Trump returns to the White House, the federal government is in for a major purge.
From The Western Journal:
Trump is eyeing a wave of firings, restructuring and cutting of the federal government that could see as many as 50,000 federal employees fired, the political news site Axios reported Friday…

The campaign is brewing to review the federal government and to prepare lists of needless positions, biased actors and duplicate departments that are ripe for elimination, in sectors ranging from the EPA, the IRS, the FBI, the Department of Justice, the Judiciary, the Pentagon and the intelligence sector, among other areas, Axios reported.
Trump hasn't announced a 2024 run yet, although sources claim that could be coming soon.
But reports are coming out that his team is collaborating with conservative groups to decide how best to drain the swamp, post-2024.
It Trump returns to the Oval Office, he will set about reducing the size of federal agencies by numbers we have yet seen.
An estimated 50,000 federal employees could be given pink slips. He appears to be targeting agencies that have far too much power and lord it over Americans.
That includes the IRS, the EPA, as well as the DOJ and FBI—which have acted like jackbooted thugs during Biden's term.
Not only will such a purge restore power to the people and drain the swamp, it will save the taxpayers billions of dollars.
After all, this means 50,000 salaries gone—as well as the elimination of burdensome regulations and restrictions these agencies love to create.
At this point, this is just a report rumored to be true. But if Trump is planning a 2024 comeback, he is certainly making these kinds of plans.
All we need is an official announcement and it's off to the races.
Key Takeaways:
Donald Trump is reportedly planning to drain the swamp if he returns to office.
He is eyeing huge cuts in federal agencies, including the EPA, IRS, FBI, and DOJ.
According to reports, it could amount to 50,000 federal employees fired.
Source: The Western Journal