Trump Blindsides Congress – His $7B Shutdown Plan Will Devastate Democrats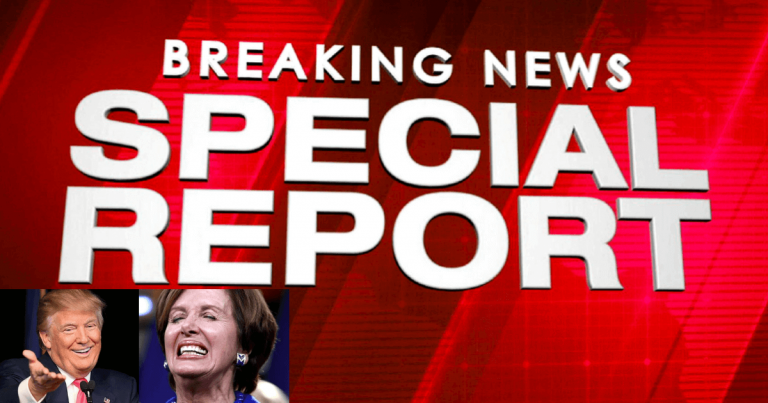 Donald is done playing games with Nancy – here it comes.
Pelosi must feel pretty good about herself right now.
She effectively canceled Trump's State of the Union, she's ground the government to a halt, and she thinks America blames Trump for it.
But boy is she in for a surprise with what Trump is preparing for her. Are you ready, Nancy?
From CNN:
The White House is preparing a draft proclamation for President Donald Trump to declare a national emergency along the southern border and has identified more than $7 billion in potential funds for his signature border wall should he go that route…
Trump has not ruled out using his authority to declare a national emergency and direct the Defense Department to construct a border wall as Congress and the White House fight over a deal to end the government shutdown.

But while Trump's advisers remain divided on the issue, the White House has been moving forward with alternative plans that would bypass Congress.
SHARE to thank President Trump for finding $7B to build the wall!
Finally, the President has had enough of the Democrats' games and is going over their heads to protect the country.
A draft of the plan states:
"The massive amount of aliens who unlawfully enter the United States each day is a direct threat to the safety and security of our nation and constitutes a national emergency.

Now, therefore, I, Donald J. Trump, by the authority vested in me by the Constitution and the laws of the United States of America, including the National Emergencies Act (50 U.S.C 1601, et seq.), hereby declare that a national emergency exists at the southern border of the United States."
The President has found the money to fund the wall in several branches of our government.
He plans to use $3.6 billion from military construction funds, $3 billion from Pentagon civil works funds, $681 million from Treasury forfeiture funds, and $200 million from the Department of Homeland Security.
The U.S. Army Corps of Engineers will also be the ones who construct the wall.
Pelosi made it clear that she wasn't willing to compromise. The Democrats could've gotten a great deal in exchange for the wall. Now they get nothing.
Maybe this was the president's plan from the beginning.
Remember how the President got the Democrats to pony up a whole lot of extra money for the military with the last spending bill?
Now he's bringing the military home from the Middle East and putting them to work doing what they should be doing: defending our nation.
SHARE to thank President Trump for doing whatever is necessary to build the wall and protect the homeland!
Source: CNN