Trump Just Threw A Wrench Into Pelosi's Relief Bill – He Threatens A Veto If Congress Doesn't Increase Stimulus Checks From $600 To $2,000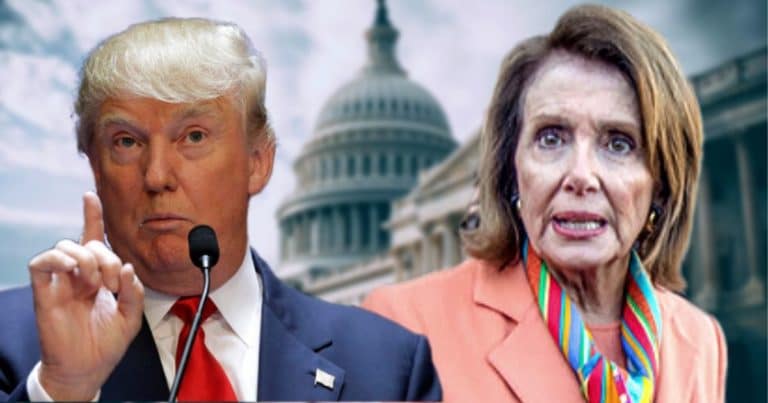 The latest stimulus package passed both the Senate and House with ease. It's a $900 billion relief package that includes extended federal unemployment benefits and $600 checks for individuals.
But many have already slammed the massive document that's nearly 5,600 pages long. Detractors of the bill say it simply doesn't go far enough to help the American people.
And President Donald Trump is one of those detractors.
POTUS ripped the new relief bill on Tuesday night, calling it a "disgrace." He specifically highlighted the individual payout, as well as saying that the bill "has almost nothing to do with COVID."
Trump further called out the $1.4 trillion omnibus spending bill, which sent truckloads of cash to lobbyists, foreign countries and special interests.
He tore into the stimulus package during a speech, and posted it on Twitter:
— Donald J. Trump (@realDonaldTrump) December 23, 2020
First on the agenda is to dramatically increase the individual checks from $600 to $2,000.
The President slammed the bill's willingness to dole out billions in a myriad of other ways, without properly caring for the American people.
Trump added that small businesses also haven't been helped enough and many, especially restaurants, have "suffered so grievously":
They were only given a deduction for others to use in business, their restaurant, for two years.

This two year period must be withdrawn, which will allow the owners to obtain financing and get their restaurants back in condition.

Congress can terminate it at a much later date, but two years is not acceptable it's not enough.
Though the package does feature another round of funding for the Paycheck Protection Program for small business loans, Trump clearly wants the government to do more.
Lastly, if "wasteful and unnecessary items" are not erased from the legislation, Trump warned that he will veto the package. And approval will fall to the "next administration."
Democrat leaders backed Trump's call for increasing the personal payouts, though they stayed quiet about those "wasteful" items the President mentioned.
House Speaker Nancy Pelosi said: "At last the President has agreed to $2,000. Let's do it!"
The issue now is this — while both sides seem to agree on a higher individual stimulus check, those controversial spending items will remain a sticking point.
Key Takeaways:
President Donald Trump has threatened to veto the recently approved stimulus package.
He wants the individual payout to go from $600 to $2,000, and he wants "wasteful and unnecessary items" to be removed from the legislation.
Democrat leaders agreed with Trump's call for higher single checks. But they may remain at odds over the more questionable spending items.
Source: Fox News