Trump-DeSantis Poll Turns Heads Across the Nation – Swing State Claims Ron Just Took the Lead in Wisconsin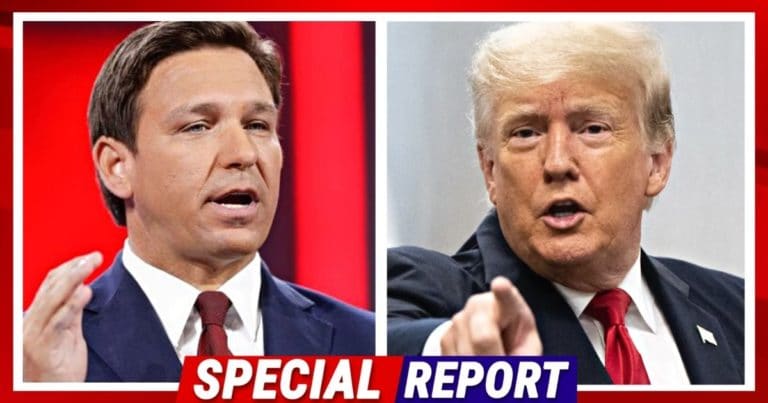 What's Happening:
We are still a year or so away from the next presidential election. But people have long speculated who will take over from Joe Biden.
(Because let's face it, that guy ain't coming back.)
Nobody from the GOP has announced a campaign. But countless polls have come out, predicting who would win.
Most of them have a predictable name at the very top. But, for the first time, a poll from swing state Wisconsin, has someone else winning.
From Washington Examiner:
Florida Gov. Ron DeSantis beat out former President Donald Trump in a new Republican poll that saw the Wisconsin conventioneers pick whom they want to run to receive the GOP presidential nomination in 2024.

DeSantis received a plurality win with 38% of the vote, while the former president took home 32%, according to the poll conducted by WisPolitics.com.
If this shakes you to your very core, keep in mind that the next closest contender (for Trump ally Nikki Haley) got only 7%.
This is the first time, we've seen, where DeSantis got a slight edge over Trump. Most polls asking voters who among Republicans would run have Trump winning by a large margin.
Some have DeSantis close behind, or at least second place.
Keep in mind, this is not an official Republican National Convention poll, but a straw poll claiming to have asked "Republican of Party of Wisconsin conventioneers."
Just three hundred and twenty-five ballots were cast, suggesting the numbers could be quite different in a larger survey.
But the results are still interesting, to say the least. DeSantis is a loyal Trump ally (Trump even lives in Florida).
DeSantis has been a tireless conservative governor, actually making good on his campaign promises.
He has so flipped Florida red, that few Democrats are even willing to invest money in 2022 races.
So far, DeSantis has not announced any 2024 plans. Instead, he is running for a second term as governor this year.
What this does tell us is that Wisconsin voters, by a large majority, want an America-first candidate.
Both Trump and DeSantis appear to be cut from the same cloth. They are anti-establishment, anti-swamp Republicans.
And they both would send lobbyists and corrupt Democrats running for the hills. If the left thinks the GOP is returning to weak, limp-wristed, McConnell-type candidates, they are dreaming.
Key Takeaways:
A Wisconsin straw poll revealed that 38% of Republicans want DeSantis in 2024.
A total of 32% of those polled picked Donald Trump.
The next "closest" candidate was Nikki Haley with 7%.
Source: Washington Examiner