After Trump Sets Easter Deadline – Pelosi Loses It On Live TV: "I Don't Care! I Don't Care!"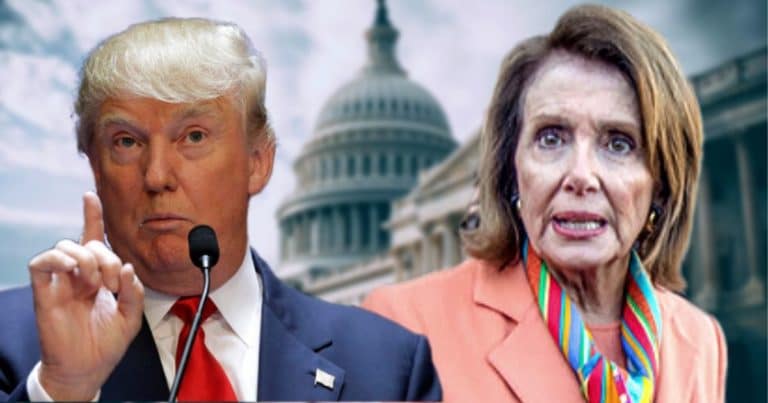 President Trump signaled hope by setting a goal for putting America back to work.
He said in a town hall meeting yesterday that he'd like us chugging, full steam ahead, by Easter Sunday.
For those keeping track, that's about three weeks from now.
In recent weeks, Trump put the safety of Americans first by urging extreme measures to reduce the spread of infection.
But he made it clear that America is a nation of workers. We can't just shut down forever. He even suggested the cure might be worse than the disease.
Apparently, Nancy Pelosi doesn't like the president's optimistic hope.
When a reporter asked her about it, she melted down.
From Twitter:
Speaker Pelosi on President Trump's suggestion about lifting his self-isolation guidelines soon: "What the President is suggesting is that light at the end of the tunnel could be a train coming at us if people are out and about in a way that spreads the disease further" pic.twitter.com/SckGxXn3zz

— CNN Politics (@CNNPolitics) March 24, 2020
Yikes. I'd like to see how Nancy Pelosi would handle this crisis, if she were in Trump's shoes.
Something tells me she wouldn't be able to hold it together.
We've seen plenty of notable Democrats losing their cool during this crisis. Bernie Sanders cursed out reporters. Joe Biden fumbled badly during TV appearances.
Now, Pelosi can't even keep her composure when discussing the issue.
We have to wonder what she is even thinking about this crisis. Her "stimulus" package was loaded with provisions totally unrelated to this disease.
Does she even understand what's going on? Does she even understand what's at stake, if we keep the economy on pause?
We seriously have to wonder. Is Pelosi so stuck in D.C. politics, that she doesn't realize how much Americans are hurting right now?
President Trump is on the front lines of this crisis. If he is saying that Easter is a realistic goal, it means he has the facts to back him up.
We've already seen nations like South Korea slash the number of infected cases by the day. And we're already outpacing them when it comes to testing.
Trump is probably seeing things that most of us don't. Pelosi should be applauding Trump for his leadership and optimism.
Maybe she's just ticked off she couldn't force all her pork into the stimulus bill?
SHARE to show everyone how Pelosi lost it!
Source: Twitter