President Trump Announces Gift To Middle Class, Shakes Up 2018 Midterms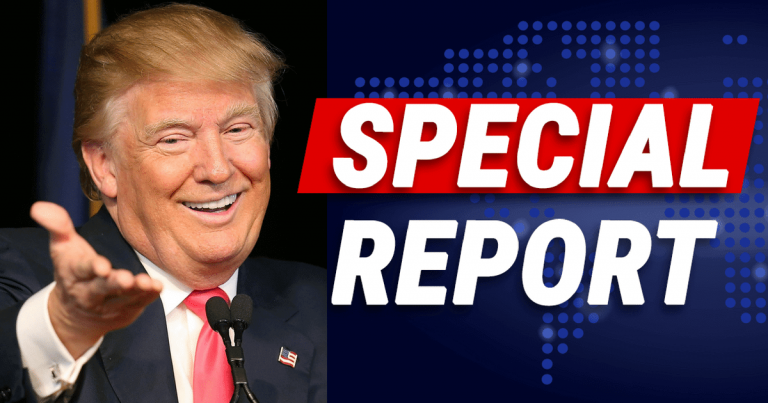 Democrats thought he wouldn't dare – here comes Donald's 2018 "October-Surprise."
After only two years, President Trump has delivered major wins for our economy.
We sound like a broken record when we report this, but it deserves repeating.
He saved our economy by slashed job-killing regulation. With help from the GOP, he delivered on big tax cuts. And that's not to mention trade deals he's scored with countries who are investing in America.
President Trump has delivered even more than he promised.
Now he's making a promise that's sure to drive voters to the polls.
From Fox Business:
President Trump said his administration and the Republican Party are working to introduce a "major" 10 percent tax cut for middle-class Americans around the beginning of November.

"We're putting in a resolution sometime in the next week or week-and a-half, two weeks … we're giving a middle-income tax reduction of about 10 percent – we're doing it now – for middle-income people," he told reporters at the White House on Monday. "That's on top of the tax decrease that we've already given."

Trump said that while the previous tax cuts benefited both the middle class and businesses, the next plan would focus solely on helping middle-income Americans.
SHARE if you're excited about Trump's new round of tax cuts!
President Trump announced this plan to 18,000 Texans in a packed stadium. The news brought enthusiastic cheers from the crowd.
After all the recent gains, there are still many Americans suffering from Obama's terrible economy.
Obama's policies nearly crippled industries. He erased millions of Americans' retirements. Obamacare destroyed many people's healthcare options.
So, Trump is working even harder to help those are that still recovering. The middle-class is the largest bracket in our economy. Millions of American families earn a middle income.
These tax cuts will help them in many ways. They will have more money to put food on the table and provide for their children. They can afford basic necessities like healthcare.
And they might even be able to put a down payment on a house: the American dream.
We didn't see anything like that during the last administration.
Don't be fooled: if the Democrats have their way, none of this is possible. Trump needs every last Republican vote in Congress to make this happen.
Do you really think Democrats will support more tax cuts—when they didn't vote on the last ones? Of course not.
The only way this bill will pass is if there is a Republican Wave that sweeps D.C. We need to vote now. Early voting is open in most states. Don't put it off to the last minute.
SHARE this story if you are going to vote for tax-cutting Trump this election!
Source: Fox Business