President Trump Crashes Global Elite Party – Distracts From Impeachment Trial By Rallying For America-First At Davos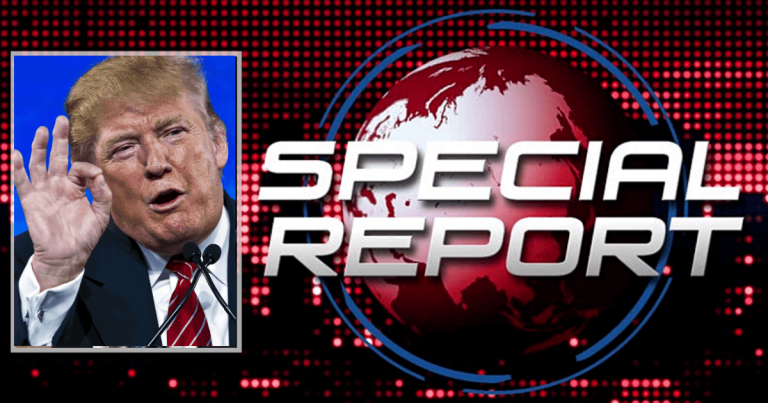 Today, the Senate began their impeachment trial of Donald Trump, but of course Trump is putting on something better to watch.
I'm sure media outlets around the world were geared up for non-stop coverage of this event.
Already, liberal newspeople are preparing their stories, trying to spin what goes on in the Senate to look as bad as possible for the President.
But as the proceedings began, Trump was stealing the spotlight way over in Davos, the global elite party in Switzerland.
The president appeared at the globalist-loving economic forum. He gave a blistering speech that should have had socialists running in fear.
From Breitbart:
President Donald Trump celebrated the restoration of the American dream on Tuesday, trumpeting the success of economic nationalism in front of the global elites at the World Economic Forum (WEF) at Davos…

"A pro-worker, pro-citizen, pro-family agenda demonstrates how a nation can thrive when its communities, its companies, its government work together for the good of the whole nation," Trump said.
President Trump returned to Davos to tell all those socialist-loving Europeans that his America-first agenda is working.
He urged all those who attended to put their own people ahead of globalism and politics, for the good of the world.
And to prove that his agenda works best, he touted some of the big accomplishments his administration has done in just three years.
Holding up the U.S. as a model to the world, he noted our energy dominance. America is producing more energy than anyone else in the world. And, he encouraged Europe to buy from us, not the other guys.
Also, he celebrated the wins he scored on trade. He reminded all the skeptics that his hard tactics with China worked. The Phase One deal and the USCMA are proof that Trump's policies bring results.
In a brutal rebuke to climate alarmists, he called for optimism about our future, not pessimism. He called out the false prophets of environmentalism, revealing them to be socialists in disguise.
And he vowed to plant one trillion trees, just to make the leftists furious. Nice touch, Donald!
Sure, you can waste your day listening to what Adam Schiff says on the Senate floor.
Or you can cheer along with the president as he schools the globalists in Davos.
SHARE to thank President Trump for putting America first in the world!
Source: Breitbart