Trump Golf Video Spreads Like Wildfire – And It's Causing a Major Online Debate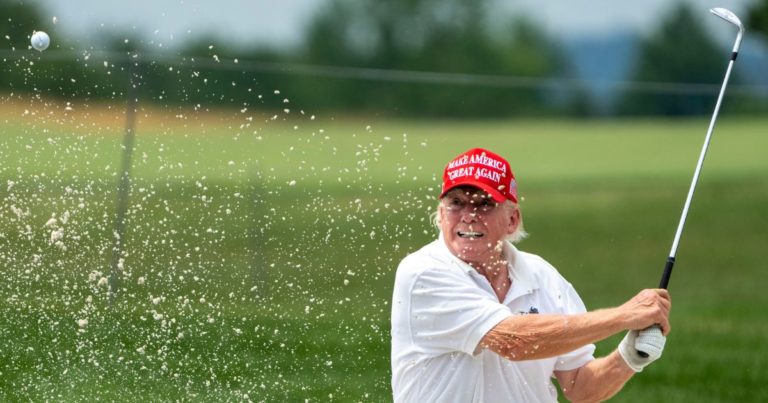 Former President Donald Trump has a big personality. Nobody alive is going to dispute that.
Some people love the billionaire's bombastic nature, while others condemn it. He spent four years battling a hostile mainstream media, which continually accused him of being "un-presidential."
But no matter what, it's clear that Trump will always be capable of causing controversy.
For example, check out what happened when Donald hit the golf course a few days ago in Florida. Everyone knows that the former POTUS loves his golf, so it was no surprise to see him out there.
However, when he did something many golfers say you should never do, the online community exploded.
Here's the video that's causing all the ruckus; it was posted on Instagram by Zire Golf and it already has nearly 31k views and over 2,400 comments.
Apparently, this is a big no-no in the links world.
As Daily Caller wrote:
Heading his way towards the hole to make his putt, Trump happened to be driving on the green, not giving a single (bleep), and pissing off golf traditionalists everywhere — and making people who think Trump is a G (like me) giddy at the sight of him doing whatever the hell he wants.
Of course, many people point out that this probably took place on Trump's golf course, so it's not like he's breaking someone else's rules.
If he wants to drive on his own putting greens with his own golf cart, so be it. On the other hand, those golf traditionalists can be an awfully strict bunch, and they say it shouldn't be done, no matter the circumstance.
Either way, it proves once again that Trump is going to do whatever he pleases in most situations. And if you don't like it … well, you know what you can do.
Currently, the former Commander-in-Chief is the only Republican candidate for President in 2024.
His re-election campaign might be off to a rocky start depending on your view, and many in the Party believe Florida Governor Ron DeSantis is a better choice (largely because he's less controversial).
No matter what, though, Donald Trump will always be able to get people talking.
Key Takeaways:
A golf video featuring former President Donald Trump is going viral.
It shows Trump driving a golf cart on the putting green, which many say should never be allowed.
Trump's fans love it, though, because it shows Donald being Donald (and it's probable that it was Trump's own golf course, anyway).
Source: The Daily Caller