After Trump Honors Injured Hero Dog – He Tells Press "If You Open Your Mouths, You Will Be Attacked"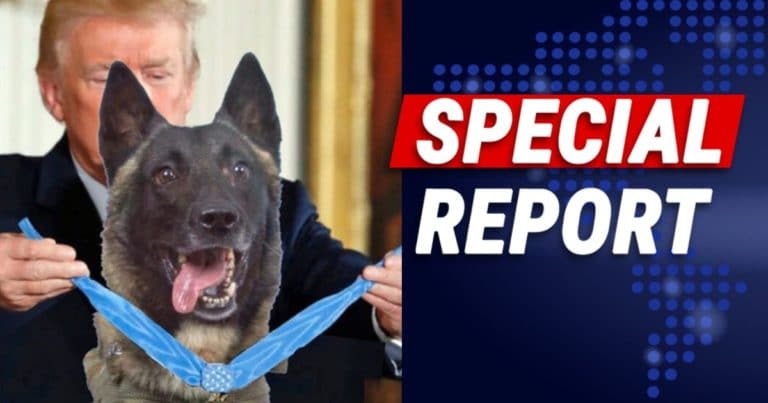 Donald honored Conan – then he sent the media scrambling!
President Trump took the time to honor the dog that was injured during the raid that took down al-Baghdadi.
That's right, we have dogs that are more patriotic, more brave, than some politicians!
The good news is Conan the dog made a full recovery after its injuries.
Remember when the media lost their collective minds over the fun photoshopped image above that Trump shared?
Well the president, vice president, and first lady finally honored this impressive pup in person, and put the media in their place.
From Fox News:
The dog injured during the mission that killed ISIS leader Abu Bakr al-Baghdadi was honored Monday afternoon during a surprise ceremony at the White House, with President Trump, Vice President Pence and First Lady Melania in attendance.
During the festivities, the mainstream media was treated to a look at the heroic dog.
The media, which spends most of its time trying to take down our president, got a bit more than they were expecting.
President Trump gave them a hilarious warning of what would happen, if they opened their big mouths.
From Twitter:
"It's trained that if you open your mouths, you will be attacked."

Trump just introduced the press to Conan, the dog involved in the capture of ISIS leader Abu Bakr al-Baghdadi pic.twitter.com/SY7AzsAp1G

— Bloomberg TicToc (@TicToc) November 25, 2019
"It's trained that if you open your mouths, you will be attacked."
Lol, nice. I wonder how many "journalists" were tempted to call Trump's bluff. Trump, in his trademark style, took a few jabs at the press. He warned them that the dog would attack if they opened their mouths.
A clever joke, for sure. Though I bet right now, left-wing bloggers and CNN hosts are panicking. I'm sure they are breathless tweeting about how Trump threatened their constitutional rights with a hero dog!
I'm sure Conan the dog shows more restraint than most people. Even though he might have loved to sink his teeth into a few of the mainstream media who have been lying about Trump, he kept his cool.
Which is more than I can say for most left-wing pundits these days.
After all these years, the media still hasn't learned. They still abuse their industry to push their propaganda.
Instead of reporting "just the facts," they spin every story to hurt conservatives and the president.
Maybe they'll learn, one day.
SHARE to thank Trump for honoring Conan – and putting the media in their place!