Hours After Democrats Deny Trump Hotels Funding – Alyssa Milano Wants Them Converted Into Hospitals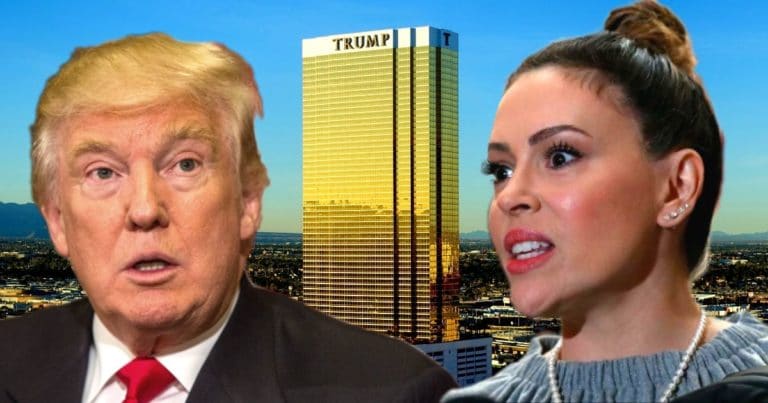 Congress is in the process of passing a major relief bill for Americans. But the left made sure to hit Trump hard.
They put in a rule that prevented any company associated with federal officials from getting help.
That includes Trump's hotels and other businesses. Pretty underhanded, huh? What about all those employees—they don't deserve help like others in the service industry?
Only hours after the news came out, liberal "actress" Alyssa Milano has a new suggestion.
Get a load of this steaming pile of nonsense.
From Breitbart:
Actress and left-wing activist Alyssa Milano is calling on President Donald Trump to convert his New York hotels into hospitals to treat coronavirus patients as the city continues to be overwhelmed by new cases of the illness.
Geez, how pathetic. Milano suggested Donald Trump should convert his luxury hotels in New York into hospitals.
Uh… okay?
Does Milano even know what's going on in New York? Does she even care?
The state has been slammed by the virus. But they have many top-notch hospitals and medical centers.
On top of that, the president has sent a naval hospital with 1,000 beds. In addition to that, he has sent other mobile hospitals and resources.
But Democrats never let a bad idea pass them by. Milano and her liberal buddies in Hollywood don't seem to understand what's going on.
They complain about being "quarantined" inside their huge homes and palatial properties.
Oh, you went a day without wearing makeup? How courageous!
Then they lecture America to take a huge financial hit by not going to work, and we're going to pay trillions for it. Or order the president to do something utterly stupid.
It's nice to know that, even in times of crisis, celebrities think they know what's best for us.
SHARE if you think liberals should just be quiet!
Source: Breitbart