Trump and Lindsey Graham Team Up Against FBI – They Both Say People Won't Put Up with FBI Action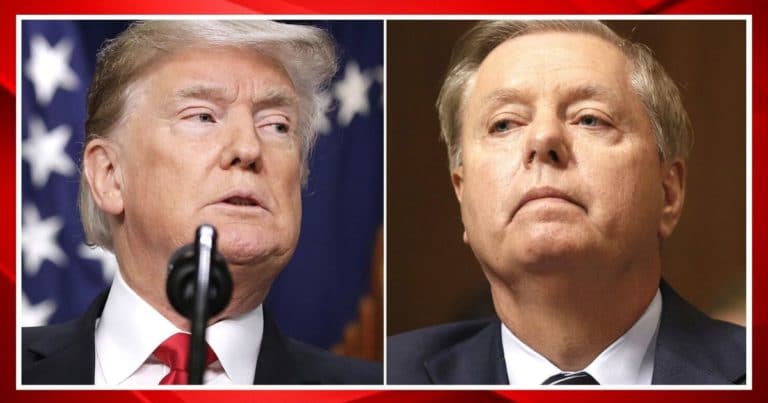 What's Happening:
It's no secret that America's trust in the FBI is at an all-time low. Many believe the law enforcement agency has been politicized to help Democrats in power.
The FBI did themselves no favors when they raided Trump's home over paperwork. Things might not go well if the agency continues to persecute the 45th president.
Sen. Lindsey Graham gave a sober warning about what could happen.
From Fox News:
Sen. Lindsey Graham, R-S.C., criticized what he viewed as a two-tiered legal system in favor of President Biden…

"Most Republicans, including me, believes when it comes to Trump, there is no law. It's all about getting him…

And I'll say this, if there is a prosecution of Donald Trump for mishandling classified information after the Clinton debacle … there will be riots in the street."
Sober words, indeed. Trump weighed in on the issue as well, calling on FBI agents to take a stand.
From Mediaite:
"When are the great Agents, and others, in the FBI going to say 'we aren't going to take it anymore," much as they did when James Comey read off a list of all of Crooked Hillary Clinton's crimes, only to say that no reasonable prosecutor would prosecute.," Trump said.

"The wonderful people of the FBI went absolutely "nuts," so Comey had to backtrack and do a FAKE INVESTIGATION in order to keep them at bay," he continued.
Sen. Lindsey Graham blasted Biden's DOJ, saying the department, as well as its FBI, is one-sided in favor of Democrats.
He said this after Biden's DOJ approved of the raid on Trump's home. The Republican went on to say that Americans will be outraged if the DOJ indicts Trump–when it did nothing about Clinton.
Hillary Clinton was investigated by the FBI over an illegal private email server. That server contained over 33,000 documents–many we learned were top secret.
But the FBI didn't do anything about it… until, Trump says, its agents went "nuts." There was apparent backlash from FBI agents after then-Director Comey refused to recommend charges against Clinton.
He reopened the investigation in October 2016, after this apparent pushback. That put tremendous heat on Clinton and could have clinched the race for Trump.
Trump is now calling on FBI agents to push back against this apparently politicized attack on him. He is urging them to say "we aren't going to take it anymore" over this raid and investigation.
It is possible that FBI rank-and-file agents can pressure Director Wray and even AG Garland to back down. If there is something of a mutiny among agents, we could see this whole scheme fall apart.
But if they do nothing, an indictment might come. And if that happens, Graham fears that people will riot in the streets.
Key Takeaways:
Graham warns that people will "riot" if the DOJ indicts Trump over the raid.
Trump called on FBI agents to push back against the Democrats' agenda.
Graham blasted the DOJ over its "two-tiered" system that favors Democrats.