Trump Halts Memorial Day Speech, Points To A Little Boy, And Moves America To Tears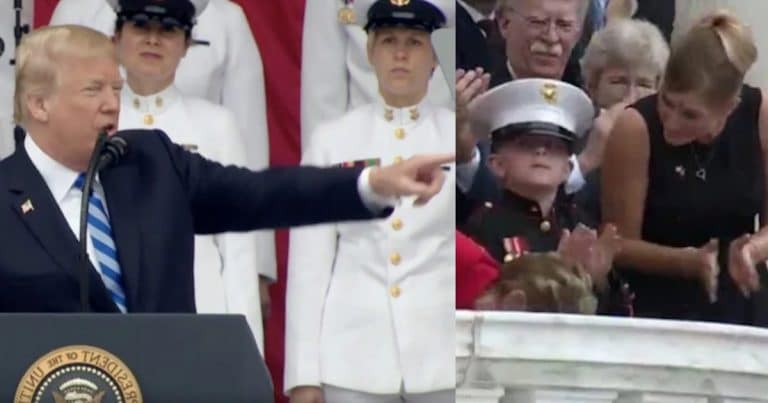 President Donald Trump has proven his love and respect for the heroes who serve our communities and country.
And when he stepped to the microphone at Arlington, Virginia on Memorial Day, he didn't miss a chance to prove this patriotic fact yet again.
But he didn't do it with a lot of fancy pre-prepared words and empty statements; as usual, he did it by connecting with the American people.
And at one point, Trump stopped his speech and shifted his focus toward a citizen's story of sacrifice and the family he left behind.
And it might just be one of the most touching, memorable moments in this administration's short history thus far.
He started by saying:
"Joining us today is a very special friend — 7-year-old Christian Jacobs, who is here with his mom, Brittany. I met Christian one year ago today.
Christian walked over to me with great confidence, shook my hand, looked me straight in the eye, and asked if I would like to meet his dad.
He loved his dad. Marine Sgt. Christopher Jacobs, who died when Christian was just eight months old."
Five-year-old Christian Jacobs pauses at his father's gravestone at Arlington National Cemetery on Memorial Day. pic.twitter.com/CyEtbehxkM

— Fox News (@FoxNews) May 30, 2016
Trump then said Christian was wearing a "beautiful Marine outfit" and pointed out the young boy in the crowd. "I've never seen a Marine look that good in my life," he added.
And how did the boy want Trump to meet his father? By visiting his dad's grave in Arlington Cemetery, of course.
And Donald, being the man he is, accepted immediately and he and Christian went and paid homage to the fallen hero together. As Trump said:
"He wanted to look good, he told me, as a tribute to his father, and he led me to his dad's grave and we paid our respects together.
He's become my friend, I'll tell you."
And when Trump was winding up, after moving an entire country to tears, he finished with some of the most powerful words any assembled crowd has ever heard:
"May God bless the families of the fallen. May God bless the men and women who serve.
And may God bless the United States of America."
Having a patriotic President seems like such a change of pace, doesn't it? I wonder why that is … any reply to that, Barack?
Source: Independent Journal Review