Beautiful Trump Moment Caught on Camera – Restaurant Worker Reaches Out a Hand and Prays for Donald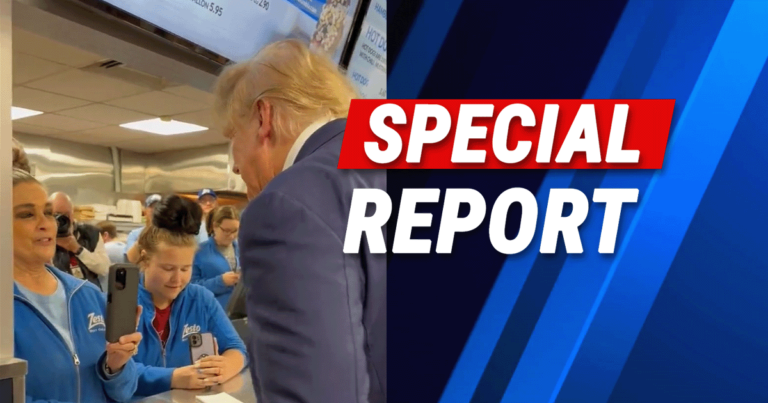 What's Happening:
Even to this day, the liberal media paints Donald Trump as some kind of elitist villain. Democrats have spent years slandering the man's character. And sadly, far too many Americans believe their claims.
But whenever people get a chance to see him up close and personally, they realize he is nothing like the media's portrayal. The successful businessman, icon TV star, and history-making president is much more down to earth than most realize. Just take this moment, as an ice cream shop in South Carolina.
Trump asked the woman at the counter if the food was good. She said yes and then asked if she could pray for him. This was his response.
From Twitter
Worker at Zesto in Columbia, South Carolina says a prayer over Donald Trump:
Worker at Zesto in Columbia, South Carolina says a prayer over Donald Trump:

— ALX 🇺🇸 (@alx) January 29, 2023
Trump was making conversation with the woman working behind the counter at this local restaurant. She asked if she could pray for him and he gladly accepted. They clasped hands as the woman gave a short prayer for the former (and perhaps future) President of the United States.
Unlike most of the "photo ops" staged by Biden's handlers, this moment was real and inspiring. Trump wasn't doing this for the cameras. He could have quickly made an excuse or let his security people shuffle him away.
Instead, he took the moment to let this American pray for him. It was a kind, simple, and heartfelt prayer. I doubt there are many prayers like this being made in the White House, these days. The video of the prayer quickly went viral. At the time of this writing, it received over 3 million views.
Responses included expressions of appreciation for the president. Many people said they loved Trump. Others pointed out that Biden wouldn't have let a woman pray for him like that. And, of course, others said they "couldn't wait" until Trump was president again.
If Trump is to return to office, public opinion of him needs to change. Millions of supporters know him as a man of character. But the noise of the mainstream media needs to be drowned out by stories like this.
Be sure to share this little moment with everyone you know.
Key Takeaways:
A video of a woman praying for Trump has gone viral.
The woman was working at a restaurant and asked Trump if she could pray for him.
The video has been seen by over 3 million people, and growing.
Source: Twitter