President Trump Calls For Nancy's Final Act – For 2020, Donald Wants A Pelosi California Primary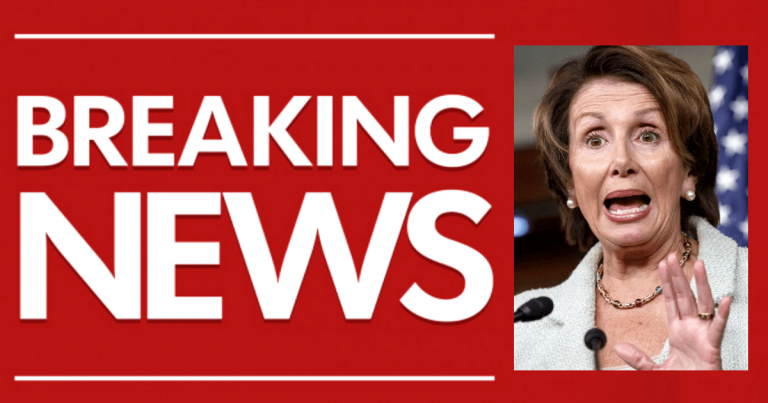 Nancy didn't think Donald would dare – the last thing she expected!
I think by this point, we can all agree that Nancy Pelosi has made a mess of this impeachment.
She took the smart route at first: she opposed a partisan impeachment saying it was bad for the country.
Sadly, she cowered to the Trump-hating Democrats in the House to jump on-board their impeachment train. Then they rushed the train, denying Trump and Republicans a fair process.
And after all that, Pelosi is refusing to send the articles of impeachment to the Senate for a trial.
President Trump has had enough. He's tired of Pelosi's petty games. He's calling for her final act.
And he wants Democrats to take her down.
From Twitter: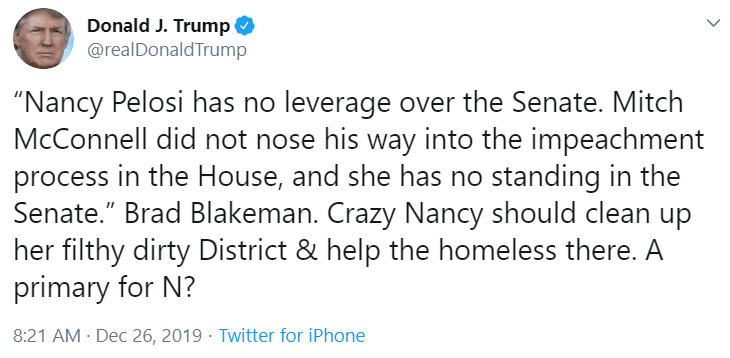 "Nancy Pelosi has no leverage over the Senate. Mitch McConnell did not nose his way into the impeachment process in the House, and she has no standing in the Senate." Brad Blakeman. Crazy Nancy should clean up her filthy dirty District & help the homeless there. A primary for N?
Talk about brutal! Trump hammers Pelosi over the state of her own district.
He accuses her of trying to control what the Senate should do with the impeachment charges. Keep in mind, Mitch McConnell never tried to "nose his way" into the House's sham of a process.
Trump reminds the Speaker that, according to him, she has done a terrible job representing her district. San Francisco is frequently in the news over its rising filth and crime. Among other problems.
She has represented that California district for years. And what does she have to show for it?
Sure, she's rich. But you can't say the same for many of the people she is supposed to represent?
Hard-working Americans in her district struggle to make ends meet. They have to put up with conditions some say are worse than third-world countries.
What is Pelosi doing in Washington? Pushing a sham impeachment that most Americans are against.
Trump throws down the ultimate gauntlet by suggesting a Democrat should rise up and challenge Pelosi in her own primary.
That would serve her right. We are seeing that trend across the country. New, far-left candidates are challenging established, do-nothing Democrats.
Democrats sat on their hand for years in D.C. and have done nothing. Now, they face extinction—from their own party.
I can't think of a better Democrat to face that kind of reckoning than Pelosi.
She needs to be replaced by a new challenger, who should then be beaten by a strong conservative!
Who's with me?
SHARE if you want Pelosi primaried and removed from office, once and for all!
Source: Twitter