Trump's Homeland Finds Billions In New Wall Money – And Hundreds Of Miles Can Be Built In 2020 With These Funds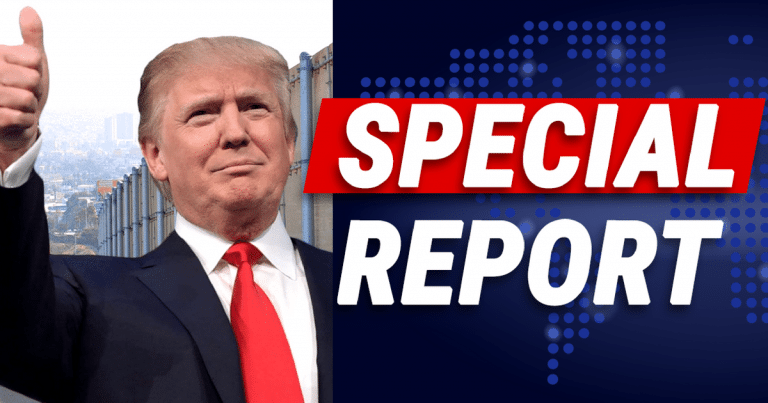 Democrats scoffed when Donald Trump promised a big, beautiful wall along our border. And they've done everything they can to stop it.
What they refuse to tell you is what's really happening at our border.
There's a massive black market South of the border. Mexicans smuggle mountains of substances into our country. This has contributed to our opioid epidemic—with terrible consequences.
Democrats don't seem to care as Trump tries every way he can to stop it.
But our Feds have seized considerable cash from Mexican cartels. We have a huge cache of resources, meant to combat drug crime.
And Trump knows just what to do with it.
From Fox News:
The Department of Homeland Security has requested assistance from the Pentagon to build 270 miles of a wall along the U.S.-Mexico border to combat drug smuggling, senior U.S. defense officials said…

Under 10 U.S Code 284, the DOD is authorized to build fencing, roads and lighting as a counter-narcotic measure and to deal with drug smuggling. That includes assisting the DHS in an area that is considered a "drug-smuggling corridor," as the DHS has declared the entire southern border.
Homeland Security is seeking $7 billion in funds to build another 270 miles of border wall. And the money will come from the perfect resource – drug-smuggling. Why aren't we doing this already?
Sounds like an appropriate fit to me! How about you?
The DOD is authorized to build fencing to counter-narcotics smuggling into our country. It's no secret that our border is still pretty porous for those bringing these substances in.
The area being discussed is a high-traffic spot. Criminals love using it to get into the country. Currently, it is only being protected by the weak barriers we've seen before.
These "dilapidated" fences do nothing to stop border jumpers and smugglers. Unlike Trump's amazing 30-foot wall and border patrol agents.
Democrats have no business blocking this move. They can't accuse Trump of being callous when he's trying to protect Americans.
Yet don't be surprised to hear Democrats complaining about this move. This money is literally meant for battling smuggling. Democrats will try to block it tooth and nail.
Considering these funds are largely taken from Mexican cartels, Mexico will literally be paying for the wall.
Win-win, right?
SHARE if you want this money used to build Trump's wall!
Source: Fox News