Trump Just Thanked Obama For Campaigning – Donald Claims "Every Time He Speaks, People Come To Our Side"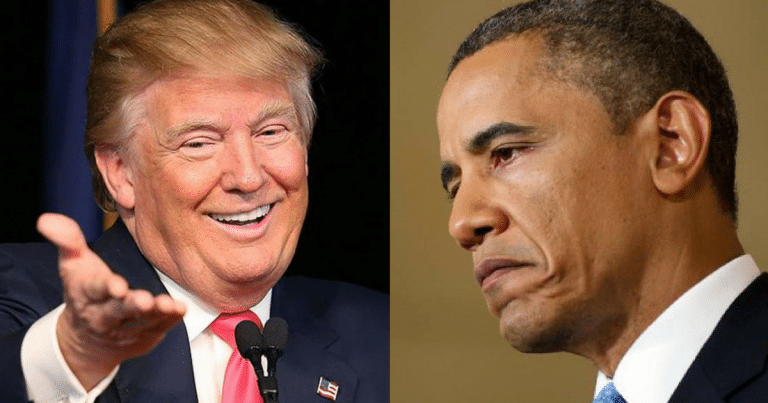 We're in the home stretch before the 2020 presidential election, and both candidates are making one final push to secure votes. Both are hoping for as much influential support as possible.
For example, Joe Biden has former president Barack Obama in his corner. Obama has been promoting Joe's campaign at various speaking events throughout the country.
But President Donald Trump doesn't mind at all.
Instead of being wary of Obama assisting Biden, Trump is actually thankful. He doesn't see this as a hurdle his campaign needs to clear; rather, he sees it as a bonus.
Trump thinks Obama is bolstering his position because it causes people to run away from Biden … and toward the incumbent.
As Fox News reported:
President Trump claimed that former President Obama is campaigning for him 'every time he speaks,' after Trump's predecessor slammed him at a rally for Joe Biden Wednesday night.

'Obama is campaigning for us. Every time he speaks, people come over to our side,' Trump wrote on Twitter.

'He didn't even want to endorse Sleepy Joe. Did so long after primaries were over!'
Obama's official endorsement of Briden came in April, but he'd been relatively quiet about his support until recently.
But Barack hasn't shied away from attacking Trump on multiple occasions, once condemning the current President for not showing any interest in is work and only "helping himself."
Obama further said Trump was treating the presidency like a "reality TV show":
And by the way, even his TV ratings are down, so you know that upsets him.

The thing is this is not a reality show, this is reality and the rest of us have had to live with the consequences of him proving himself incapable of taking the job seriously.
But once again, Trump doesn't seem to mind Obama's comments.
When asked if he thought Obama's campaigning for Biden was "good news or bad news," Trump replied that it's good and in fact, "nobody campaigned harder for 'Crooked' Hillary Clinton than Obama."
The Biden campaign clearly believes Obama's support will result in more votes.
Their assumption is that if citizens voted Obama before, they're far more likely to vote for Biden if Barack publicly stands up for his former vice president.
On the other hand, Trump and his followers believe it plays directly into their hands; they think Democrats are only further alienating many Americans.
We'll have to wait and see if Obama really did help Biden once voting closes after November 3.
Key Takeaways:
Barack Obama continues to show his support for presidential nominee Joe Biden.
But President Trump believes this isn't helping Biden at all. In fact, he thinks it's only bringing more voters to the Republican side.
Trump reminds us that Obama campaigned hard for Hillary Clinton, too.
Source: Fox News